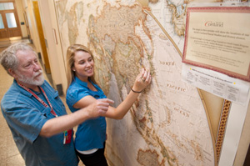 08/01/2011

The three oversized maps hanging outside of the History Department on the second floor of Old Main attempt to tell the story of the College's history and social studies alumni.
But the story is incomplete.
Jim Miller, a lecturer in SUNY Cortland's History Department, needs help with a project he started with a graduate assistant in 2009. The "Social Studies and History Alumni at Work" project visually displays the locations of the department's graduates on New York state, United States and world maps.
So far, 91 out of more than 600 alumni have been located. But only alumni who graduated in the last decade were contacted with an initial letter two years ago. Now, Miller wants to know where social studies and history degrees have taken SUNY Cortland alumni, regardless of class year.
"I was always big on geography," Miller said. "And I thought with all of our alumni and student teachers, (maps) would be a great way to visualize where they are."
In the fall of 2009, Miller approached graduate assistant Ashley Bertrand with the idea. Bertrand, who graduated from the College with a bachelor's degree in history in 2009, was pursuing a master's degree in literacy education at the time.
After Bertrand secured a $250 grant from the Cortland College Foundation Small Grants Program, she collaborated with the College's Alumni Affairs Office to put together a list of history graduates since 2000. She sent letters with the hopes of building an alumni network for the History Department.
All told, Bertrand poured more than 200 hours into the project.
"To have the maps display people that have graduated from Cortland, it was just a different idea and it was really cool," said Bertrand, who now teaches in Wilson, N.C.
With the help of Larry Jebbett, a retired structural maintenance worker at the College, three National Geographic maps measuring six-feet-by-ten-feet were mounted on the walls outside of the History Department's offices.
Different color stickers mark the locations of alumni. Most of the stickers — 63 to be exact — decorate the map of New York state. Twenty-two stickers represent the department's alumni who work in 15 other states, including Hawaii. And then there are six stickers that mark former history students who live outside of the U.S. in countries such as Romania, Thailand and South Korea.
Miller knows that the responses so far represent a modest sampling of SUNY Cortland's geographic reach.
"We need to tell other students: this is where (alumni) are teaching and this is what they're doing," he said.
Alison Cleary, a former graduate assistant who obtained her bachelor's and master's degrees from the College, took over the map project for the 2010-11 academic year after Bertrand graduated. Cleary said the giant map display serves as a reminder of the places she can travel with a SUNY Cortland degree.
"You spend four years here," she said. "Seeing the maps every day reminds you of all of the opportunities that await you and all of the things that you can do."
Social studies and history alumni are invited to email Miller with their current locations and professions. They can also visit the alumni update webpage to update their current information.
---