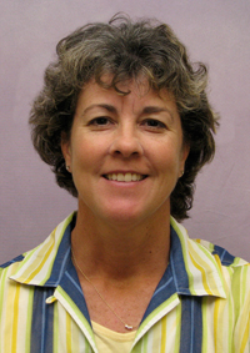 09/26/2011

SUNY Cortland has appointed Wendy Burton of Cortland, N.Y., as interim program coordinator for its Institute for Civic Engagement. She began her duties on Sept. 13.
Burton provides coordination and administrative support for the Institute's programs, including those offered at the College's outreach center, Main Street SUNY Cortland, located at 9 Main St.
She also collaborates with a downtown revitalization organization, the Cortland Downtown Partnership, as well as other community groups.
Burton reports to Richard Kendrick, director of the College's Institute for Civic Engagement.
"Wendy has volunteered for local junior golf camps and helped the elderly in her neighborhood," said Kendrick, who also is a SUNY Cortland professor of sociology/anthropology. "She is looking forward to meeting community members and SUNY Cortland faculty and staff that will be using Main Street SUNY Cortland."
A Cortland resident for eight years, Burton has a Bachelor of Science in Management from Appalachian State University in Boone, N.C.
She has worked as a sales representative and marketing coordinator at GSG Vincent Furniture Restoration in Cortland.
She replaces Christie Zwahlen, who has returned to the Center for Civic Engagement at Binghamton University after serving for several months in the position. A search will be conducted for a permanent replacement.
"We appreciate Christie's many contributions to the Institute, the College and the community while she worked with us over the past several months," Kendrick said. "We look forward to continuing to work with Christie and the Center for Civic Engagement staff at Binghamton University as we discuss ways that we can work together to promote civic engagement at our respective institutions."
Burton can be reached at (607) 753-4270 or by email.
For more information on SUNY Cortland's Institute for Civic Engagement, contact Kendrick at (607) 753-2481 or at his email address.
---