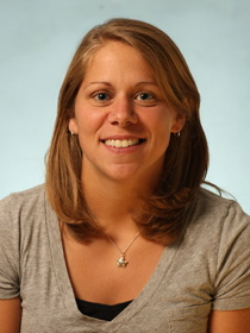 09/09/2011

Courtney Wormuth has been named the assistant director of athletics for event management, marketing and promotions at SUNY Cortland, according to Director of Athletics Mike Urtz.
Wormuth will oversee Cortland's game-day athletic operations and serve as a department contact for corporate sponsorships and event promotions, among other duties. In addition, a portion of Wormuth's position is in Cortland's Sport Management Department, where she will serve as a lecturer.
Wormuth replaces Tracy Granozio, who left after four years to pursue a doctoral degree at Springfield College in Massachusetts.
Wormuth most recently served as the athletics facilities manager at Tompkins Cortland Community College (TC3) in Dryden, N.Y., since August 2007. She supervised day-to-day operations of the athletic facilities, marketed them to outside groups and organized and directed the school's summer sports camps, among other duties.
In addition, Wormuth was the school's women's basketball head coach from 2007-10 and served as an adjunct professor for the health and fitness department. She coached the Panthers to a pair of playoff appearances and a Region III Final Four appearance.
Prior to her work at TC3, Wormuth was an operations assistant and an athletics/fitness center monitor at Cornell University in the 2006-07 school year and an assistant women's basketball coach at Hamilton College in the 2004-05 season.
A native of Johnstown, N.Y., Wormuth earned a bachelor's degree in exercise science from North Carolina Wesleyan College in 2003. She graduated magna cum laude and earned the school's Exercise Science Department Award as a senior. In addition, she played basketball and softball for the Battling Bishops.
Wormuth earned a master's degree in exercise and sport sciences from Ithaca College in 2004. While studying at Ithaca, she worked as a wellness clinic fitness specialist.
---