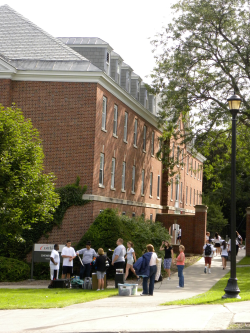 07/21/2011

When SUNY Cortland students went home for the 2010-11 winter break, about 200 Cheney Hall residents packed their belongings and moved so the residence hall could receive its first major renovation in 60 years.
When the building reopens for the Fall 2011 semester after its approximately $7 million upgrade, returning students will see a dramatic change.
Inside, residents and visitors will be able to gaze into a very large opening through the first level floor at a newly added lounge area on the ground-floor level, according to Robert Carr, facilities program manager for the College. The interior was gutted and renovated according to modern living needs, including a kitchen on every floor and a study lounge on most floors, Carr said.
"The rooms had a very old-style closet and built-in drawers that were suitable 60 years ago but not today," Carr said.
The living space will house 218 students, Carr noted. The uppermost level is being converted from conventional bedrooms into suites, for four fewer beds, while the ground level is being renovated to contain student rooms for the first time. The result of changes over all the floors will be a net increase of 12 total beds.
Unlike other recently renovated residential facilities, which received contemporary entryway upgrades, Cheney is considered historic and therefore will retain its traditional exterior architectural style, Carr said. When Cheney's upgrade is complete, the College will have renovated all but two of its 16 student residence halls in an effort to make on-campus life more attractive to approximately 3,000 students.
Cheney Hall is located next to Brockway Hall and bordered by Graham Avenue, Court Street and Stevenson Street. The renovation is expected to be completed around the end of July, observed Carr.
Project architect Woolley Morris, of Syracuse, which also designed the Casey and Smith Towers renovation, planned an elevator at the heart of the triple-winged building. Adding that feature originally was scheduled to delay the completion date into the fall, leaving the building's former residents occupying tripled rooms elsewhere around campus.
"With aggressive project management by our campus site representative Rob Davenport and all the hard work of the contractors, we instead expect to open the building in the fall," said Jeffrey Lallas, the College's director of facilities planning, design and construction.
Last spring, Cheney Hall's residents were placed across campus in residence hall rooms vacated by students who hadn't returned for the spring semester, according to Sarah Williams, assistant director for operations for the College's Residence Life and Housing Office.
In the Fall 2010 semester, the hall had been filled deliberately with freshmen and transfer students, who were offered the opportunity to return and enjoy living in the most recently renovated student housing on campus, Williams said.
"They will have all-new furniture and all-new rooms," Williams said.
Residence Life and Housing staff provided boxes and tape to pack their belongings and Physical Plant employees are providing elbow grease to help the students move back into Cheney.
"Transfer students enjoy living in a building where there are lots of other transfer students," she said.
The transfer students had the option, unavailable elsewhere on campus, to break their one-year lease after only six months without penalty and move off campus for the Spring 2011 semester, Williams said. About 20 transfer students accepted the offer.
Twenty electricians work hard inside Cheney Hall to ensure the building renovations finish on time.
As with all SUNY residential construction and renovation, the project was designed to meet the United States Green Building Council's (USGBC) Leadership in Energy and Environmental Design (LEED) building standards for sustainability, Carr said.
Constructed in 1951, Cheney and its twin opposite on the south side of Brockway Hall, DeGroat Hall, are the College's oldest residence halls and among the most venerable buildings on campus, according to the book, Cortland College: An Illustrated History, by Leonard F. Ralston, professor emeritus of history.
Fittingly, the facility originally called "North Hall" was dedicated in 1961 in memory of Francis J. Cheney, a revered early principal of what was then called the Cortland Normal School. He served from 1891 until his death in 1912. DeGroat Hall was named after Harry DeWitt DeGroat, the school's principal from 1912-1943. Ten years would pass before the College constructed another residence hall.
A grand reopening ceremony and open house will be held in the fall.
---