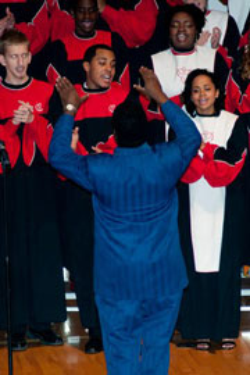 02/16/2011

The 2011 SUNY Cortland Gospel Choir Cultural Celebration on Sunday, Feb. 27, will feature a variety of musical performances by members of the campus, local and regional communities.
The event begins at 4 p.m. in Old Main Brown Auditorium. Tickets are $3 for students, $4 for seniors, and $5 for all others. Tickets may be purchased through Gospel Choir members, at the door or reserved in advance. Ticket reservations may be made by calling (607) 753-4104 or e-mailing Distinguished Service Professor Samuel L. Kelley or Distinguished Teaching Professor Seth N. Asumah. Reserved tickets may be picked up at the door. Individuals who cannot attend but wish to make a donation are encouraged to do so. There will be a reception following the concert.
During the concert, the SUNY Cortland Gospel Choir will offer the popular "Let's Dance" by John P. Kee, "Presence" by Youthful Praise with Jason Carriero as soloist, "Alpha And Omega" by Israel and the New Breed, and "Perfect Praise" by Brenda Moore, with Melody Byron as soloist. The second set for the choir will include "Faithful Is Our God" by Hezekiah Walker, "I Just Want to Praise You," "Ride On King Jesus," and "Oh Happy Day" with Khalia Brown as soloist.
Brown also will sing the classic spiritual, "Sometimes I Feel Like A Motherless Child."
SUNY Cortland alumna Dorothy Thomas '77 will present a piano performance of "Colors of the Wind" from the musical "Pocahontas."
Cortland A Cappella, directed by Noelle Paley, Multicultural Life Office and adjunct professor of Africana studies and philosophy, will feature SUNY Cortland students in several pieces, including "Amazing Grace" and "Hallelujah" by Jeff Buckley.
The SUNY Cortland Africana Dance Troupe, under the direction of Yomee Lee, assistant professor of kinesiology, will present a West African dance called "Sunu" and "Samba Reggae."
Salsa performer Nikolay Karkov, adjunct professor of Africana studies and philosophy, will offer selections with dance partner Xhercis Mendez.
A jazz set by the Gospel Choir musicians will round out the performance. The musicians are saxophonist Jamie Yaman of Cortland, N.Y.; and keyboardist Andy Rudy, bass guitarist Reggie Siegler, percussionist Benjamin Terry and Robert Brown on trombone, all of Syracuse, N.Y.
Co-sponsoring the celebration with the choir are the Africana Studies Department, the Black Student Union and the Caribbean Student Association. The event is supported by the student activity fee.
The celebration continues the College's Black History Month, which is co-sponsored by the President's Office; the Provost and Vice President for Academic Affairs Office; the Center for Gender and Intercultural Studies; the Vice President for Student Affairs Office; the Multicultural Life Office; the Dean of Arts and Sciences Office; the Political Science Department; the Affirmative Action Committee; the Communication Studies Department; the Africana Studies Department; the Black Student Union; and the Caribbean Student Association.
For more information, contact Kelley at (607) 753-4104.
---