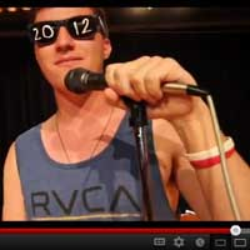 07/10/2012

In the latest amusing remix of the popular Carly Rae Jepsen tune "Call Me Maybe," SUNY Cortland's orientation advisors (OAs) sing, dance and entertain in a new video for first-year students.
"Call Me OA (Call Me Maybe Remix) – SUNY Cortland Orientation 2012" conveys the comforting message that "we're just like you" in re-worked lyrics to the number one hit that's been covered in parody videos by everyone from Justin Bieber and Katy Perry to the Harvard baseball team and Sesame Street's Cookie Monster. The SUNY Cortland version is being shown during all five sessions of the College's summer orientation program, which began on Monday, June 25, and continues through mid-July.
"The most important message we wanted to convey to the incoming students is that we are just like them — we are all students," said Ryan Walker, a junior physical education major from Hampton Bays, N.Y., who produced the video. "We're mentors for these first-year students, but the video says that we're fun-loving and can talk to them as friends who have recently gone through the experience."
Within 24 hours of being posted on the Internet, the video had received nearly 800 hits.
This is the second summer that Walker has worked as an OA. "When I received the letter that I was hired as an OA, I started thinking about how we could make the new students feel comfortable during their first days on campus," Walker said. "I wrote the song and everyone (OAs) got behind the project and it really took off. I sing the rap parts in the video and the chorus is sung by another phys ed major, my friend Dan Spector, but the project wouldn't have worked without the commitment of all the OAs."
The video includes lines like, "You're a first-year orientation baby … your life begins here, so don't get lazy…" and "We're here to help you, so call us OAs." The original "Call Me Maybe" song was written by Canadian recording artist Jepsen and Tavish Crowe and released in September 2011.
Video for the SUNY Cortland remix is shot at various locations around campus and at the College's Raquette Lake facility. Together, the OAs came up with the concept of showing off the many campus locations, Walker said.
Walker is a self-taught videographer and uses his skills to help other groups and individuals to get their message out. Producing videos is Walker's hobby and he has 78 of them posted on his YouTube site, ODDJobMedia.
"This spring I helped my friend Colin Wilson by filming the Great Cortlandia video so that he could promote an adventure race hosted by SUNY Cortland's FIT Club," said Walker. "He raised $740 for the Wounded Warrior Project and I benefited by sharpening my video and photography skills."
During the school year Walker produces videos of the Gymnastics Club and photographs athletes playing club sports. He said he gives the students links to their photos, as it is often the only pictures club sport student athletes have of themselves.
Walker produced "Orientation Intro Video Summer 2011" and now, when he looks back at work he did a year ago, he sees that he is growing as an individual.
"The quality of this year's video is much sharper and I'm better at conveying the message more creatively," he said.
The OAs sing, "Say bye to your mom, say bye to your dad, say bye to your friends, 'cause you're coming to college, let the fun begin."
In two months, the first-year students targeted by the video will be doing just that.
---