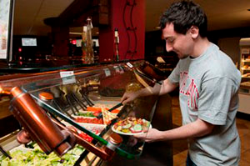 04/27/2011

Expanded hours, faster service and additional menu selections all became part of the College's dining experience this year as SUNY Cortland's Auxiliary Services Corporation (ASC), responded to feedback from members of the campus community.
More than 1,400 students, faculty and staff responded to the National Association of College and University Food Services (NACUFS) Customer Satisfaction Survey conducted in the fall. Based on the survey's results, ASC, the campus-based, not-for-profit organization that provides food services, vending, campus stores, student ID cards and other essential services to the campus community, improved its dining program.
"The results are important for a couple of reasons," said William McNamara, director of dining services for ASC. "First, they help us see where we are compared to where were a year ago.
"They also help us judge how we're doing against our competition. Overall, we were real happy with the survey."
Compared to other dining providers at institutions the same size as SUNY Cortland, the College compared favorably in most survey categories. Four themes dominated the responses of survey respondents: more weekend dining options, faster service, posted nutritional information and better variety in menu choices.
To offer more weekend dining options, ASC expanded the hours at Dragon Court in Corey Union on Saturdays and Sundays. Neubig Dining, the campus' unlimited access facility which used to close from 3 to 4:30 p.m. daily, added continuous service from 8 a.m. to 9 p.m. daily.
ASC added equipment at two of its busiest dining outlets to speed up service time. After adding a third cash register at Hilltop in Brockway Hall and a second espresso machine at Bookmark in Memorial Library, ASC measured a significant improvement in average service time in both locations. The dining program continues to look for more ways to increase efficiency in other campus units.
Nutritional information is now available at many of the serving stations in Neubig to enable more informed dining choices. ASC plans to post nutritional information campus-wide by the fall.
Many survey respondents requested more menu options. ASC began to incorporate new choices at its dining facilities. Additions include a taco bar and whole-wheat pasta selection at Hilltop, expanded salad and sandwich choices at the Bookmark and a new line of baked goods at Dragon's Den in Old Main and the Bookmark.
"Where we identify what we can do, we do," McNamara said.
Founded more than 50 years ago, ASC is governed by a board of directors made up of students, faculty and administrators. The organization employs more than 300 regular staff members and students and is the largest employer of students on campus.
The campus community is encouraged to offer dining suggestions throughout the year by contacting ASC.
---