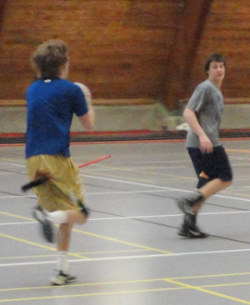 04/27/2011

With their shoes tied tight, hands gripped firmly on their broomsticks and quaffle in hand, SUNY Cortland's fledgling Quidditch club team was not hesitant to get right to work.
Running and passing the ball back and forth, the eager College students raced up and down the field as if they were playing alongside J.K Rowling's fictional character Harry Potter. The approximately 18 members of the first semester club sport would give the teams in the Hogwarts Quidditch Cup league a run for their money.
With an unmatched passion for the Harry Potter novel series, the participants are excited to offer their classmates a way to be active and have some fun.
"The Quidditch Club has the perfect mix of fun and physicality," said Erica LaComb, a sophomore history education major, co-founder and president of the SUNY Cortland club sports team.
"The sport is perfect for anyone who enjoys both Harry Potter and athletics," adds LaComb of Syracuse, N.Y. "It is something new and different that everyone of all ages and athletic ability can enjoy."
"I think all the members are really passionate about this sport," said Morgan White, a senior English major and club secretary. "We usually are all disappointed because we can't practice often enough."
Participants involved will be playing the "muggle" or "on ground" version of the game attributed by the famous novels and films. "Muggle Quidditch" is played very much like the game found in the Harry Potter movies. Just like the movie, the object of the game is to throw the ball or quaffle through the goals to gain points, LaComb explained. Each team consists of seven players that must be mounted on a broom, holding it between their legs with at least one hand on it at all times.
"It's a tough sport to play, without having to think about keeping your broomstick between your legs," said LaComb.
LaComb and her friend, Sarah Mackin, approached assistant intramural sports director Matt Nuesell, about starting a Quidditch tournament locally for SUNY Cortland students.
"After we told the intramural director that we wanted to participate in an on-campus Quidditch competition, the director pushed us into getting together and starting a Quidditch club team," said LaComb.
"I thought about starting a team and decided that since I was a really big Harry Potter fan, there must be others on this campus," said LaComb.
"I knew it would be a big hit because it was something that is new and refreshing and not like your traditional club sports."
Members hope to practice one or two times a week.
"At our first ever practice, we had a decent turnout even though some members were unable to attend," LaComb said. "We will be looking to form a team this semester to compete with other universities across the country and around the world. But to do so, we're going to need a few more members."
After the spring 2011 semester, the Quidditch Club will seek to join the International Quidditch Association (IQA). The IQA was founded by two Middlebury College students, Xander Manshal and Alex Benepe in 2007. Joining the IQA would allow SUNY Cortland to travel around the U.S. and internationally to play other universities in the league.
"I love this club because it is based on books that I am very passionate about," said White of Binghamton N.Y. "I have always been impartial to sports, but now there is a sport that I am truly interested in."
"It is a way of getting Harry Potter fans together, basically creating a sporty book club."
After the spring 2011 semester, the Quidditch Club, some of whose members are shown here, will seek to join the International Quidditch Association (IQA).
---