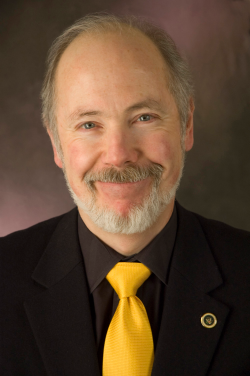 09/25/2012

A respected political scholar's overview of the 2012 elections kicks off SUNY Cortland's four-part Community Roundtable Series.
Robert Spitzer, a SUNY Cortland distinguished service professor and a nationally recognized authority on subjects such as the U.S. Constitution, the U.S. presidency and the politics of gun control, will present "The 2012 Elections: A Referendum or a Choice?" on Thursday, Oct. 4, in the Park Center Hall of Fame Room.
Spitzer will speak at 8 a.m. and a questionandanswer session will follow. Refreshments will precede the lecture at 7:45 a.m.
Sponsored by the College President's Office, the Community Roundtable is free and open to the public.
Spitzer, who also chairs SUNY Cortland's Political Science Department, said the event should provide a broad overview of the 2012 presidential election, especially for those who aren't politically savvy. It's important that everyone of age takes advantage of his or her right to vote, he said.
"For anybody who says it doesn't matter who the president is, I believe this election proves them wrong," said Spitzer, who has appeared on national television news shows that include NBC's "Today Show" and ABC's "Good Morning America." "It does make a difference and what you think about that difference determines how you should vote."
Spitzer will provide an unbiased overview of President Barack Obama and Mitt Romney as well as the perceived advantages and disadvantages of each candidate's campaign.
He also will discuss some of the major issues shaping this year's election, including the economy.
Beyond that, Spitzer will lay out some of the other major Election Day themes, including foreign policy in the Middle East, the future of health care, the environment and energy exploration.
Additionally, he will explain how the election has evolved in the short term over the past few weeks.
Attendees will be invited to share comments and ask questions related to any topic, Spitzer said.
A regular panelist on "The Ivory Tower Half Hour," WCNY-TV's popular public affairs program which airs every Friday night, Spitzer is a regular contributor to the Huffington Post.
His books include The Politics of Gun Control (1995; 4th ed. 2007), Politics and Constitutionalism (2000), Essentials of American Politics (co-authored, 2002; 2nd ed. 2006), and The Presidency and the Constitution (co-authored, 2005).
The Community Roundtable series provides programs on diverse intellectual, regional and cultural topics of interest to College faculty, staff and community members. Three more roundtables are scheduled this academic year. They will take place on the first Thursdays of November, April and May.
Parking in the Park Center lot is open to the public during the roundtables. For more information, contact the President's Office at (607) 753-5453.
---