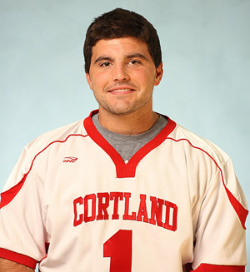 06/30/2011

SUNY Cortland junior men's lacrosse attackman Mike Tota, of Webster, N.Y., has been selected to the 2011 Capital One College Division Academic All-America Men's At-Large Second Team.

Tota is also one of four Cortland student-athletes in four different sports who earned Capital One academic all-district honors. Tota was named to the District I All-Academic Men's At-Large first team. Junior softball shortstop Jessica Harman, of Penfield, N.Y., was chosen to the District I All-Academic Softball second team, while senior women's golfer Meghan Brunswick, of Oneonta, N.Y., and junior women's tennis player Alyssa Tretter, of Batavia, N.Y., were each named to the District I All-Academic Women's At-Large second team.

The teams are chosen by the College Sports Information Directors of America (CoSIDA). The at-large teams cover 13 women's and 12 men's sports. CoSIDA's District I includes Division II and III schools from New York and New England.

Tota began the 2011 spring semester with a 4.08 cumulative grade point average. A business economics major, he earned second-team All-SUNYAC honors and was an honorable mention All-American. Tota led Cortland with 40 goals scored and was third on the team with 51 total points in 19 games.

Harman entered the 2011 spring semester with a 3.90 grade point average. The kinesiology major started all 48 games for the Red Dragons this spring. A second-team all-region shortstop, she batted .362 with two homers, 12 doubles, 27 RBI, nine steals and a team-high 22 walks.

Brunswick, a biomedical sciences major, brought a 3.94 grade point average into the 2011 spring semester. She was the second-best finisher in all five of Cortland's tournaments last fall, including an 11th place showing at the ECAC Div. II/III Championships. Brunswick also placed in the top 10 in three tournaments this spring.

Tretter is a childhood and early childhood education major. She started the 2011 spring semester with a 4.0 grade point average. Last fall she posted a 9-3 singles record and advanced to the SUNYAC tournament semifinals in both singles and doubles play. She captured the SUNYAC fourth singles crown as a sophomore in 2009.
---