News Detail
11/09/2020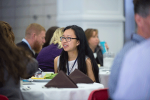 Lorraine Lopez-Janove has always sought to foster inclusive excellence in education.
During her long career, she has worked with the New York State Education Department for more than five years to investigate why a disproportionate number of students of color had been placed in special education in schools across the state.
Presently, as chief diversity and inclusion officer at Cortland since Aug. 10, Lopez-Janove leads and supports SUNY Cortland's effort to promote diversity and inclusive excellence throughout all aspects of the institution.
She was chosen to offer standout SUNY Cortland students guidance for their journey during the university's Spring 2020 President's List virtual ceremony, held on the evening of Nov. 9.
She addressed honorees who took part in the virtual event. The ceremony traditionally was held with their families in the Corey Union Function Room, but this year was conducted remotely due to the COVID-19 pandemic. In other changes, honorees received a PDF copy of the program prior to the ceremony, and a mailed letter and certificate after the event.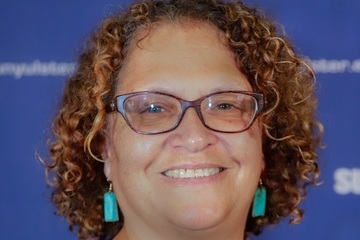 The President's List is the university's highest honor for students who excel academically. It acknowledges students enrolled in a minimum of 12 credit hours who achieve grades of A- or better in each of their courses. During Spring 2020, 18.3 % of the full-time student body reached this level of achievement.
SUNY Cortland President Erik J. Bitterbaum opened the reception, which recognized 1,037 students this year.
In early November, the President's Cabinet was expanded to include Lopez-Janove's role as the university's chief diversity and inclusion officer as a permanent member. The expansion reflected the institution's recognition that issues of equity, diversity, inclusion and social justice are critical to SUNY Cortland and that they should be at the center of deliberations and decision-making at the highest levels.
Before joining the university, Lopez-Janove worked since 2017 to raise the bar for diversity and inclusion jointly for the SUNY Orange, SUNY Sullivan and SUNY Ulster community college campuses. She was a member of the president's cabinet at the SUNY community colleges, participating in all aspects of institutional planning and assisting each college in its efforts to meet the needs of diverse student, faculty and staff populations.
Before that, Lopez-Janove served as executive director of the Human Rights Commission of Sullivan County. The role gave her a unique perspective on the value of working with local agencies and organizations to foster mutual understanding and collaboration among diverse groups in a larger community.
She also has experience as an educator and administrator through Orange-Ulster BOCES.
As a senior project associate with the Technical Assistance Center on Disproportionality at New York University from 2010 to 2016, her responsibilities included working with a portfolio of over 60 New York state schools cited by the New York State Education Department for disproportionality of Black and Brown students in special education or suspension. Among other initiatives, she oversaw the process in leadership development whereby New York school administrators and teachers arrived at the root cause of disproportionality by working with school data and reviewing policies, practices and beliefs.
Lopez-Janove holds certifications in Affirmative Action, Title IX and Conflict Resolution and brings a broad array of rich experiences related to equity, diversity and inclusion. Lopez-Janove attended Marist College in Poughkeepsie, N.Y., where she earned both a B.A. in social work and a master's in public administration.
A final video was placed on the President's List website.
Next spring, a second President's List Reception ceremony will be held to recognize Fall 2020 honorees.
---