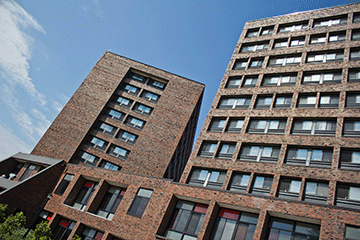 01/02/2020

SUNY Cortland's largest student residence is starting the new year with a $30 million renovation aimed at making the Casey and Smith Tower complex more modern, comfortable and energy efficient.
Construction, financed and managed by the Dormitory Authority of the State of New York (DASNY), will begin this spring and is expected to be completed by August 2021.
DASNY is New York state's capital project development authority. The renovation of Casey and Smith Tower, a 10-story, 147,000 square-foot high-rise that houses 560 students, is being financed through the SUNY Dormitory Facilities Program, through which DASNY issues low-cost, tax-exempt bonds supported by student residence hall fees.
"This project marks the completion of an extensive upgrading and construction effort, made possible by DASNY and Gov. Andrew Cuomo, aimed at improving all of SUNY Cortland's student resident halls," SUNY Cortland President Erik J. Bitterbaum said.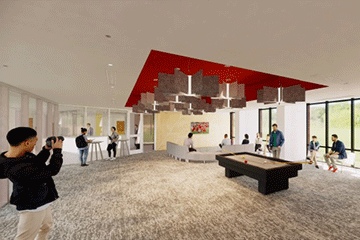 "When it is done, all of our on-campus student apartments will be completely modern, energy efficient and competitive with residences available at more expensive, private colleges."
The attached towers were constructed in 1972 and named after James Casey '53, a longtime head of campus housing, and Donnal V. Smith, the Cortland president from 1943 to 1958. The first two floors of Casey and Smith were renovated in 2009. Once the third through 10th floors of these attached high-rises are completed, every one of the campus' 16 residence halls — most of which were built in the 1950s or 1960s — will have undergone at least one major renovation.
DASNY has partnered with SUNY since the 1940s, said Reuben R. McDaniel, III, DASNY's acting president and chief executive officer. DASNY manages the construction teams that soon will begin their work.
"The cost-effective, sustainable solutions that DASNY's design and construction teams are developing for this 10-story complex will provide its students with an optimal environment for living and learning," McDaniel said.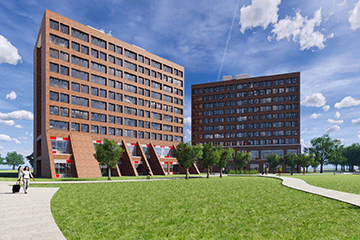 As with all major construction and renovation on campus, the project will exemplify SUNY Cortland's commitment to sustainability. The buildings will be upgraded to the Leadership in Energy and Environmental Design (LEED) silver standard as encouraged by the U.S. Green Building Council.
"New York's higher education institutions are key drivers of economic development," said Governor Andrew Cuomo, who announced the project with DASNY on Thursday. "Keeping our university campuses competitive with modern residence halls and state-of-the-art technology is vital to ensuring we attract the best and brightest to lead our great state into the future."
By providing modern, state-of-the-art living facilities, SUNY is attracting more students to live on campus to study, grow as individuals and participate in a diverse college community, said SUNY Chancellor Kristina M. Johnson.
"With the leadership of Governor Cuomo, we are proud to partner with DASNY on this renovation at Cortland, which will create a better space for students while also fostering an environment that's conducive to their success," Johnson said.
Eight suites in each tower were redesigned to comply with Americans with Disabilities Act (ADA). Once both towers are completed, 32 students will have accessible living quarters to complement the buildings' common areas, which will be updated to enable students requiring physical accommodation to use them.
"In my opinion, the inclusion of increased ADA access to students in and of itself is the most significant improvement to the Casey and Smith Tower renovation project," said Ralph Carrasquillo, Cortland's director of residence life and housing. "By having these accommodations included, we are acting on our commitment to grow and encourage a more diverse campus community."
The first-floor entry and lobby will be remodeled to include moveable walls, allowing for functions of various sizes. In addition, another small lounge with kitchenette will be added to this floor.
The bedrooms and corridors of the two towers will receive fresh paint and finishes as well as energy efficient, new LED lighting. The bathrooms will undergo a complete renovation and upgrade. Low-flow faucets and toilets to conserve water also will be installed.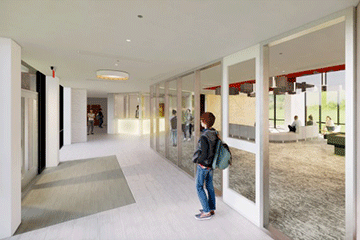 The lounges on the upper floors of both towers will include modern kitchenettes, while floors nine and 10 will add new laundry facilities.
New exterior windows will be fitted on floors three through 10 to improve comfort and energy efficiency of the complex. In addition, two new heating, ventilation, and air conditioning units will be installed on the roof to ensure optimum ventilation and healthy building conditions are achieved. New high-efficiency boilers also will be installed.
Individual units on floors three through 10 will get new doors as well as power and data upgrades in all bedrooms. Fire protection system enhancements to those upper floors will include a full-coverage sprinkler system throughout and fire alarm upgrades.
The first-year, transfer and upper-level students who lived in Casey last fall vacated the building at the end of the semester. That will allow that half of the complex to be finished around July and reoccupied next fall, according to Martin Edgington, associate project coordinator and campus engineer.
"The natural shedding of students makes this possible," Edgington said. "A lot of students were looking to be there just the one semester."
That's because many of Casey's fall occupants graduated in December or will study abroad this spring, or were transfer students granted permission to move off campus after just one semester, he explained. Natural vacancies elsewhere on campus have made room for any remaining former residents.
The process will repeat with Smith Tower at the end of 2020, Edgington said.
---