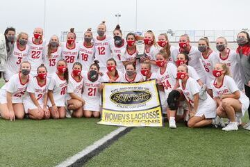 05/04/2021

The nationally 17th-ranked Cortland women's lacrosse scored seven of the game's final 10 goals to erase a two-goal deficit in earning a 15-13 victory versus 14th-ranked Brockport Sunday afternoon in the championship game of the 2021 SUNYAC Women's Lacrosse Tournament. The Red Dragons won their 12th consecutive game an earned an automatic berth into the NCAA Div. III playoffs. The Golden Eagles fell to 10-3 with the setback.

Tournament Most Valuable Player Hannah Lorenzen (Stony Brook/Ward Melville) and freshman Toni Cashman (East Moriches/Westhampton Beach) led Cortland with five goals each. Junior Hannah Keech (Penn Yan/Penn Yan Academy) tallied four points on one goal and three assists, junior Shelby Meduski (East Quogue) recorded one goal and one assist and seniors Emily Goebel (Penfield) and Hannah Tiso (Somers) and sophomore Kiki Meager (Syracuse/West Genesee) each netted a goal. Senior Cecilia Procopio (Syracuse/West Genesee) registered two assists, while freshman Holly Wright (Huntington) added an assist.

Senior goalie Paige Potter (Cortland) made 11 saves for the Red Dragons. Lorenzen won seven draw controls, Meager secured five draws, senior Kayla Petre (Hauppauge) finished with two ground balls and to caused turnovers and senior Kayla Sweeney (Baldwinsville/C.W. Baker) caused two turnovers.

Junior Allison Jennings (Memphis/Jordan-Elbridge) paced the Brockport offense with five goals. Sophomore Cassidy Burnash (Rodman/South Jefferson) scored three goals and added an assist. Graduate student Heather Conklin (Penn Yan/Penn Yan Academy) and freshman Logan Hibbard (Hilton) each netted a pair of goals, junior Danielle Hemly (Ithaca) notched a goal and sophomores Natalie Strough (Lorraine/South Jefferson) and Courtney Cunningham (Poughquag/Arlington) contributed one assist apiece.

Junior goalie Morgan Elmer (Syracuse/Westhill) stopped six shots for the Golden Eagles. Conklin added nine draws and three caused turnovers. Cunningham finished with four draws and three ground balls.

Cashman gave Cortland a 1-0 lead 1:44 into the game, but Brockport strung together three straight goals from three different players to grab a 3-1 lead at the 23:03 mark. Lorenzen answered with three goals in a row before Brockport scored five of the final eight goals of the half to take an 8-7 lead at the break.

Jennings and Hemly sandwiched goals around a Cashman score to open the second half, and the Golden Eagles held a 10-8 lead. The Red Dragons rallied for five consecutive goals from five different players in less than an eight-minute span to take a 13-10 lead halfway through the second half.

After Burnash made it a 13-11 game at 13:36, Lorenzen and Cashman scored two minutes apart to push Cortland's advantage to 15-11 with 8:13 to play. Hibbard scored at 6:42, and Conklin notched her second goal of the game at 4:51 to cut the Red Dragon lead to 15-13. Brockport secured the ensuing draw control, but Potter made a save on Burnash with just under four minutes to play. Cortland worked a good clear, but Elmer denied a shot by Meager with 2:47 remaining. Procopio ran down the ground ball, which eventually led to two yellow cards issued to Brockport in the closing minutes allowing the Red Dragons to keep possession and run out the clock to seal the win.

Joining Lorenzen on the All-Tournament Team were Potter, Cashman, Meager, Petre and Keech from Cortland; Jennings, Burnash, Hibbard and Conklin from Brockport; Megan Henderson from Geneseo and Sophia Calabrese from Oneonta.

Cortland will face Transylvania University (Lexington, Ky.) in the first round of the NCAA Div. III tournament at Rhodes College in Memphis, Tenn. on Saturday, May 8. The game will stream online at 5 p.m.
---