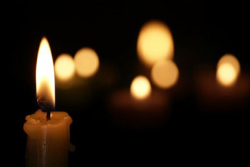 09/10/2020

SUNY Cortland will reflect on the seven alumni lost on 9/11 in several virtual and in-person remembrances on Friday, Sept. 11, 2020.
The SUNY Cortland Alumni social media accounts will post a video message from President Erik J. Bitterbaum and biographies of those who died on that tragic day each hour, on the hour, starting at 9 a.m. Follow on Twitter, Facebook and Instagram to learn more.
SUNY Cortland's Emergency Medical Services, a basic life support first response agency staffed 24 hours a day by full- and part-time students, has shared a video message on YouTube. SCEMS Chief Alison Davis spoke about the heroism of the first responders who risked their lives that day in New York City and Washington, D.C.
The Lynne Parks '68 SUNY Cortland Alumni House will pay tribute by lining its sidewalk with American flags and will keep a candle lit throughout the day in honor of those who died.
A monument to the seven Cortland alumni in the first-floor lobby of the Miller Building, which includes photographs and biographies, will have flameless candles and flowers placed on Friday as well.
Please join us in remembering Michael J. Boyle, David Garcia '84, Alfred Maler '85, Karen S. Navarro '94, Donald Spampinato, Jr. '84, Glenn Thompson and Kenneth VanAuken '77.
---