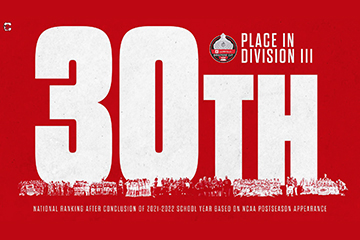 06/28/2022

The SUNY Cortland men's and women's intercollegiate athletic program finished in 30th place in the 2021-22 LEARFIELD Directors' Cup competition among the approximately 440 eligible NCAA Division III programs competing nationally for the prestigious honor. The National Association of Collegiate Directors of Athletics (NACDA), LEARFIELD and USA Today present the award to recognize overall excellence among collegiate athletic programs.
The Red Dragons finished with a score of 520.25 points. Tufts (Mass.) won the Directors' Cup with 1,080 points, followed by Johns Hopkins (Md.) with 1,043 points, Middlebury (Vt.) with 1,000.50, MIT with 936.75 and Washington-St. Louis with 922.50.
Cortland had 12 teams earn points, which are awarded based on NCAA postseason finishes and the size of each postseason field. The national champion in each sport earns 100 points. The Red Dragon scorers were:
Men's Soccer – tied for 9th place (64 pts.)
Women's Lacrosse – tied for 9th place (64 pts.)
Football – tied for 9th place (53 pts.)
Women's Volleyball – tied for 17th place (50 pts.)
Men's Lacrosse – tied for 17th place (50 pts.)
Baseball – tied for 17th place (50 pts.)
Women's Swimming and Diving – 29th place (45 pts.)
Wrestling – 38th place (36 pts.)
Men's Cross Country – top-5 NCAA regional finish (32.5 pts.)
Women's Golf – 24th place (26 pts.)
Field Hockey – tied for 17th place (25 pts.)
Women's Basketball – tied for 33rd place (25 pts.)
There are four Directors' Cup Awards, one to honor overall champions in each of the NCAA's Divisions (I, II and III) and the NAIA. It is the first-ever cross-sectional all-sports national recognition award for both men and women. NACDA is the professional and educational association for more than 12,500 college athletics directors, associates, assistants and conference commissioners, along with affiliate individuals or corporations. More than 1,600 institutions throughout the United States, Mexico and Canada are represented in NACDA's membership.
2021-22 LEARFIELD DIRECTORS' CUP
Final Division III Standings
Rank School...................................... Points
Tufts (Mass.).............................. 1,080
Johns Hopkins (Md.).................... 1,043
Middlebury (Vt.)......................... 1,000.5
Mass. Institute of Technology....... 936.75
Washington-St. Louis................... 922.5
Williams (Mass.)......................... 908
Chicago (Ill.)............................... 900.5
Claremont-Mudd-Scripps (Calif.).... 858
Emory (Ga.)............................... 846.5
Stevens Institute (N.J.)................. 780.5
Ithaca....................................... 770.75
Washington & Lee (Va.)............... 767.5
Wisconsin-Whitewater................ 754.25
Pomona-Pitzer (Calif.).................. 743
Carnegie Mellon (Pa.).................. 725.75
Wisconsin-Eau Claire................... 715.5
Wartburg (Iowa)......................... 700.75
Christopher Newport (Va.)........... 695.5
SUNY Geneseo........................... 691.75
Trinity (Texas)............................ 685.5
Wisconsin-La Crosse.................... 680.5
North Central (Ill.)....................... 649
John Carroll (Ohio)...................... 635.75
T24. Amherst (Mass.)......................... 603.5
T24. Loras (Iowa)............................... 603.5
New York University.................... 546.5
Calvin (Mich.)............................. 536
Hope (Mich.).............................. 533
Rowan (N.J.).............................. 523.25
CORTLAND................................ 520.5
Other New York schools in Top 100:
St. John Fisher............................ 427
RPI........................................... 358
Rochester.................................. 309
Nazareth................................... 287.5
RIT........................................... 239
T93. Hobart/William Smith.................. 197
Hamilton................................... 192.5
Complete standings are online at: https://nacda.com/documents/2022/6/15/FinalDIIIStandings.pdf
CORTLAND'S DIRECTORS' CUP FINISHES
2021-22: 30th
2018-19: 57th
2017-18: 54th
2016-17: 21st
2015-16: 22nd
2014-15: 12th
2013-14: 23rd
2012-13: 11th
2011-12: 10th
2010-11: 16th
2009-10: 17th
2008-09: 5th
2007-08: 9th
2006-07: 3rd
2005-06: 5th
2004-05: 13th
2003-04: 8th
2002-03: 15th
2001-02: 12th
2000-01: 13th
1999-00: 17th
1998-99: 8th
1997-98: 2nd (tied)
1996-97: 8th
1995-96: 19th
(not conducted in 2019-20 or 2020-21)
---