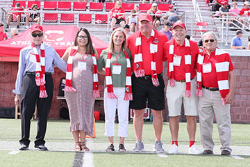 09/13/2022

Seven new members were inducted into the SUNY Cortland C-Club Hall of Fame during its annual ceremony on Saturday, Sept. 10. The 2022 honorees are:
Bill DeSario '68, wrestling
Rory Whipple '76, men's lacrosse, wrestling
Dan MacNeill '79, football (player and head coach)
Michelle Franklin Rauber '91, M '96, women's cross country/track and field
Sarah Child '07, field hockey
Donnalyn Cross Moran '12, softball, and
Jerry Casciani (honorary), men's lacrosse head coach; football, wrestling and men's lacrosse assistant coach; associate professor and chair emeritus of physical education
In addition to Saturday night's official ceremony, the inductees will be introduced at halftime of the Cortland football game versus The College of New Jersey earlier that afternoon.
Established in 1969, the C-Club Hall of Fame recognizes Cortland alumni who competed as athletes at the College and who have since distinguished themselves in their professions and within their communities. Honorary members are recognized for their long and significant contributions to SUNY Cortland athletics. New C-Club members have been added annually and this year's ceremony will bring the Hall of Fame roster to 282 alumni and 32 honorary members.
Nominations for the 2023 C-Club Hall of Fame voting will be accepted until January 15, 2023. The nomination form is available online at: http://www.cortlandreddragons.com/nominations. A person must be nominated to be considered for induction into the Hall of Fame.
A detailed look at this fall's inductees follows below.
Bill DeSario '68
Bill DeSario was a two-time Division I All-America wrestler at Cortland who went on to enjoy more than 45 years as a highly successful educator and coach in Suffolk County.
* A North Bellmore, N.Y., native, he earned a bachelor's degree in physical education from Cortland in 1968, a master's degree in physical education from SUNY Brockport in 1969, and a professional diploma in school administration from Long Island University-C.W. Post in 1979
* Competed in varsity wrestling at Cortland for three years from 1965-68 along with freshman wrestling and freshman soccer
* Two-time NCAA Division I All-American at 123 pounds, finishing fourth in 1968 and sixth in 1967
* Three-time State University of New York Athletic Conference (SUNYAC) champion – 130 pounds in 1966 (Cortland won the team title) and 123 pounds in 1967 and 1968
* Registered a then-school record 64 career victories in three varsity seasons from 1965-68
* Won 130-pound titles at the 1967 and 1968 4-I tournaments, which featured top collegiate and AAU wrestlers from Michigan, Ohio, West Virginia, Pennsylvania and New York
* Finished fourth at 125.5 pounds at the 1968 Final U.S. Olympic Trials
* Named to the East All-Star Team as top the senior east of the Mississippi River at 123 pounds by the NCAA in 1968
* Wrestling team captain and the team's Red Letter Award as both a junior and a senior
* SUNY Brockport's varsity wrestling head coach in 1968-69, leading the program to a 9-4-1 record and SUNYAC runner-up finish and being named honorable mention for the Amateur Wrestling News Collegiate Rookie Coach of the Year award
* Physical education teacher in the Babylon public school district from 1969-2001 and the Director of Physical Education and Athletics at Babylon from 1989-2000
* Posted a combined 386-164-6 record during his 37-year wrestling coaching career that included one year at SUNY Brockport, 20 years at Babylon (1969-89), 10 years at Commack High School (2000-10) and six years at Ward Melville High School (2010-16); his 377 high school dual meet wins rank third in Suffolk County history
* Earned 10 league wrestling Coach of the Year honors; his teams won 15 league/conference titles and his wrestlers claimed 15 sectional titles, seven state titles, 12 all-state honors, 67 all-county awards and 88 league/conference titles
* His coaching at Babylon also included junior high co-ed track, freshman/junior high football, junior high softball and middle school baseball
* A 2010 National Wrestling Hall of Fame inductee for lifetime service to the sport of wrestling
* Junior High Wrestling Chairperson for Suffolk County from 1990-2004 and President of Suffolk County Wrestling Coaches Association from 2007-15
Rory Whipple '76
A lacrosse midfielder and All-America wrestler at Cortland, Rory Whipple is one of the NCAA's most successful men's lacrosse coaches with 359 wins over 38 seasons.
* The Rochester, N.Y., native earned a bachelor's degree in physical education from Cortland in 1975 and an associate degree in recreation from Farmingdale State in 1974
* Competed in wrestling and men's lacrosse for two seasons each at Cortland from 1974-76
* Posted a 35-13 combined wrestling record and won two Red Letter Awards
* Earned All-America honors with a sixth-place NCAA Division III tournament finish at 150 pounds in 1976, a State University of New York Athletic Conference (SUNYAC) title at 158 pounds in 1975, a SUNYAC runner-up showing at 150 pounds in 1976, and two state runner-up finishes
* Midfielder on Cortland's men's lacrosse teams that won the 1975 NCAA Division II title in addition to qualifying for the national tournament in 1976
* All-American in both lacrosse (1973, 1974) and wrestling (1974) at Farmingdale State
* Collegiate men's lacrosse head coach for 38 years with a combined record of 359-212; currently ranks 10th all-time in wins among men's lacrosse coaches across all NCAA divisions
* Coached seven seasons at Clarkson University from 1980-86 (after three seasons as assistant coach), followed by 12 seasons at Hartwick College (1987-98), seven years at Bryant University (2000-06), two seasons at Florida Southern College (2009-10) and 10 years at the University of Tampa (2012-21)
* Cortland men's lacrosse assistant coach in 2022
* During his coaching tenure at Tampa he led the Spartans to a 131-38 record, seven NCAA Division II tournaments (including three national semifinals), and six Sunshine State Conference (SSC) titles, and he was named SSC Coach of the Year four times
* Hartwick's career leader with 114 wins, including the program's first NCAA playoff berth in 1995
* Head coach of the 1994 Iroquois National Team that finished fifth at the World Lacrosse Championships in England
* Coached Iroquois Under-19 team at the World Championships in Japan in 1996, a bronze medal at the 1999 World Games in Australia and a bronze medal at the 2003 World Championships in Baltimore, and was an assistant coach for the Iroquois National Team that finished fourth at the 2002 World Championships in Australia
* Head wrestling coach at Clarkson for 10 seasons from 1976-86, leading the program to multiple top-20 national rankings
* 1989 inductee into both the Upstate New York Wrestling Chapter and U.S. Lacrosse Chapter Halls of Fame, and a 2010 National Junior College Lacrosse Hall of Fame inductee
* Has directed and coached various wrestling and lacrosse youth programs in Rhode Island and Florida
Dan MacNeill '79
Dan MacNeill is the most successful head football coach in school history in his 23-year tenure at Cortland and was a four-year player for the Red Dragons in the late 1970s.
* The Walton, N.Y., native graduated from Cortland in 1979 with a bachelor's degree in physical education and earned a master's degree in educational administration from Villanova University in 1994
* A four-year letterwinner and three-year starter at linebacker and defensive tackle at Cortland from 1975-78 and a team tri-captain during his senior year
* Cortland's head football coach for 23 seasons from 1997-2019, posting a 155-85 (.646) record, with eight or more wins 10 times, to set school records for victories and winning percentage (minimum three years coached)
* His Red Dragon teams earned 17 postseason berths, including six NCAA Division III tournament showings, three ECAC bowl wins and a New York Bowl victory
* 2008 Liberty Mutual National Coach of the Year finalist as Cortland finished 11-2, advanced to the NCAA quarterfinals to tie for fifth nationally, and was recognized as the East's top team with the Lambert Trophy and ECAC Team of the Year awards
* 2015 HERO Sports Division III National Coach of the Year, D3football.com East Region Coach of the Year, and the head of the Empire 8 Coaching Staff of the Year as Empire 8 co-champions finished 9-3 and advanced to the NCAA second round
* Two-time New Jersey Athletic Conference (NJAC) Coach of the Year in 2008 and 2012
* His teams tied for ninth nationally four times - NCAA second round in 2010, 2012 and 2015 and NCAA first round in a 16-team field in 1997 – and won at least a share of eight conference titles – NJAC in 2005, 2006, 2007, 2008, 2010 and 2012, and Empire 8 in 2015 and 2019
* Posted a 13-10 record versus Ithaca College in the annual Cortaca Jug rivalry game
* Coached 30 All-Americans, 94 All-East and 77 All-ECAC players, and his players earned 50 All-Empire 8 and 204 All-NJAC honors during his Cortland tenure
* Assistant coach at Division I-AA Villanova University for 13 years from 1984-96, including defensive coordinator for nine seasons
* Assistant coach at Port Byron (N.Y.) Central High School from 1980-82 and a graduate assistant at Ithaca in 1982 and 1983
* Spearheaded Cortland Football's "Get in the Game" national bone marrow registry program, which was responsible for adding more than 2,100 potential donors to the national registry and resulted in seven transplants
* Founding member and involved for more than 20 years with the CNY National Football Foundation and College Hall of Fame
Michelle Franklin Rauber '91, M '96
Michelle Franklin-Rauber was a three-time national champion distance runner at and has been one of New York State's top track and field and cross country coaches since the mid-1990s at Tully High School.
* A native of Homer, N.Y., she earned a bachelor's degree in elementary education from Cortland in 1991 and a master's degree in elementary education from Cortland in 1996 (also took grad courses in spring of 1998)
* Women's cross country/track and field distance runner at Cortland after transferring from Edinboro University
* Three-time NCAA Division III track and field national champion in 1998 (1,500-meter indoor title, 3,000-meter and 10,000-meter outdoor titles) and earning New York Region Outdoor Track Athlete of the Year honor
* Two-time cross country All-American, finishing 17th nationally in 1989 and 1995
* Six-time State University of New York Athletic Conference (SUNYAC) track and field champion – indoor 1,500 and 3,000 meters in 1998, outdoor 3,000 and 5,000 meters and 4x800-meter relay in 1998, and 4x800-meter relay in 1990
* Member of Cortland women's cross country teams that won 1989 and 1995 NCAA titles, indoor track and field teams that finished third nationally in 1990, fifth in 1996 and ninth in 1998, and outdoor track and field team that tied for seventh in 1998
* Part of five SUNYAC championship teams (1989 and 1995 cross country, 1990 and 1998 indoor track and field, 1998 outdoor track and field)
* Rondout Valley Central Schools elementary education teacher (1991-94) and cross country and track and field coach (1992-94)
* Elementary education teacher in Tully since 1994 and Tully High girls' cross country coach since 1997, girls' outdoor track and field head coach since 1998 (assistant coach 1995-98), and girls' indoor track and field head coach since 2018
* 2017 New York State Outdoor Track and Field Coach of the Year and 2018 Niagara Association Bob Ivory Coaching Award winner
* Her Tully cross country teams have won three state titles (2013, 2014, 2018) and were runners-up five times, in addition to winning 12 sectional titles and 20 Onondaga High School League (OHSL) championships
* Her Tully outdoor track and field teams have won 12 sectional titles and 21 OHSL crowns and her indoor track and field teams won league titles in 2018 and 2019 and one sectional title
* Coached more than 50 individual and 10 relay state championship track and field qualifiers, including four state champions, along with five cross country state title-winners, a USATF cross country champion and a Pan American cross country champion
* Created Tully Junior Cross Country program for boys and girls grades 3-6 and Junior Outdoor Track and Field program for boys and girls grades K-6
* Member of Homer High Athletics Hall of Fame inaugural induction class in 2005
Sarah Child '07
Sarah Child is a former All-America field hockey player at Cortland who has established herself in the science world with her studies of Antarctic glaciers and other remote sensing and data processing work.
* The Cooperstown, N.Y., native earned a bachelor's degree in geographic information systems from Cortland in 2007, a master's degree in geographic information science from the University of Edinburgh in 2009 and a doctor of philosophy in geology from the University of Kansas in 2019
* Four-year starting defender on Cortland's field hockey team from 2003-06
* Played in 75 games, 69 as a starter, and helped lead a defense that allowed only a combined 77 goals over her four seasons
* Third team All-American as a junior in 2005, a two-time All-North Atlantic Region selection (2005-06), and a three-time All-State University of New York Athletic Conference (SUNYAC) honoree (2004-06)
* Her teams posted a combined record of 66-7, won four SUNYAC titles, advanced to the NCAA Division III tournament semifinals in 2003, and advanced to the NCAA quarterfinals three straight years from 2004-06
* During her senior year the Red Dragons finished 19-1, including an 18-0 mark prior to the NCAA tournament – the first time Cortland posted an unblemished regular-season record (matched once since by the 2009 team)
* Four-time SUNYAC academic award winner and four-time NFHCA national academic squad selection
* Received Cortland's Olive C. Fish Award in Geography in the spring of 2006
* Currently a research scientist at the University of Colorado, Boulder, where her research with the Cooperative Institute for Research in Environmental Sciences (CIRES) focuses on multi-decadal changes in glacier dynamics for the Antarctic and Greenland Ice Sheets
* She is a co-Principle Investigator for projects awarded federally funded grants to better understand external forces affecting Antarctica and Greenland glacier behavior and subsequent sea level rise
* Her research in glaciology has been published in peer-reviewed, international journals as well as presented at several international conferences and meetings
* Received the 2016 Jack Dangermond/Environmental Systems Research Institute, Inc. (Esri) Geospatial Technologies Student Award while at the University of Kansas for her work standardizing the state of Kansas's geological databases and creating an automated template for future geological mapping
* 2013 SUNY Cortland Young Alumni of the Year award winner
* Special teaching assignments have included: core teaching in the summers of 2013 and 2014 at the all-girls science and math camp TechTrek, run by the American Association of University Women (AAUW) to help empower 12 and 13-year-old girls in the STEM fields; and conducting remote sensing of glaciers course at the University of Alaska, Fairbanks's McCarthy Glacier Summer School in 2022
Donnalyn Cross Moran '12
Donnalyn Cross Moran was one of the nation's top Division III softball players during her four-year Red Dragon career and is among the best players in the history of the State University of New York Athletic Conference (SUNYAC).
* The Binghamton, N.Y., native earned a bachelor's degree in speech and hearing sciences from Cortland in 2012
* Four-year starting softball second baseman from 2008-11
* Career .404 batting average (including a .451 average in 2011, .416 in 2010 and .401 in 2009) with 17 homers, 43 triples, 36 doubles, 103 RBI, 197 runs, 70 steals, .672 slugging percentage in 196 games played, all as a starter; Cortland's career leader in hits (260), triples, steals and runs scored
* Graduated as the NCAA Division III career leader with 43 triples (currently ranks second)
* Set Cortland school single-season records of 73 hits and 59 runs scored in 2011 and 15 triples in 2010, and also ranks second and third on the single-season triples list with 13 in 2009 and 11 in 2011
* Three-time first team All-American (2009-11) and four-time All-Northeast Region, including first team three times (2009-11)
* Two-time ECAC Upstate NY Player of the Year (2010-11), 2009 First Team All-ECAC Upstate NY and 2008 ECAC Upstate NY Rookie of the Year
* SUNYAC Softball Player of the Decade (2010-19)
* Three-time SUNYAC Player of the Year (2010, 2011, co-Player in 2009), four-time first team All-SUNYAC and 2008 SUNYAC Rookie of the Year
* 2011 NCAA World Series All-Tournament Team and four-time NCAA Regional All-Tournament Team
* Three-time selection to the SUNYAC All-Tournament Team (2009, 2010, 2011)
* Team qualified for four NCAA Division III tournaments, advancing to the World Series three times (fourth place in 2011, tied for fifth in 2008, tied for seventh in 2009), and won three SUNYAC titles (2008, 2010, 2011)
* 2010-11 SUNY Cortland C-Club Senior Female Athlete of the Year
* Cortland Student Athlete Advisory Committee (SAAC) representative and selected for NCAA Leadership Conference in 2009
* Started her own dog training company in 2016 and has trained more than 10 police K9's, including SUNY Cortland's bomb detection dog, RED
* Also runs a dog daycare and boarding facility in Cortland, which opened in May 2020
* Has offered free training classes to a local dog rescue since 2016
* Has donated dogs to Operation Build Up, which assists struggling veterans and first responders, and has trained and donated dogs to the John Sonny Burke Police Academy and the City of Cortland Police Department
Jerry Casciani (honorary)
Jerry Casciani's rich association with SUNY Cortland for more than five decades has included serving as men's lacrosse head coach, assistant coach for wrestling, football and men's lacrosse, and physical education associate professor and chair.
* A native of Niagara Falls, N.Y., he earned a bachelor's degree in physical education in 1959 from Springfield College (where he was a football offensive and defensive back), a master's degree in physical education from Penn State in 1960, and a doctorate degree from West Virginia University in 1980
* Began working at Cortland in 1970 as a physical education instructor, was promoted to assistant professor three years later, was named associate professor in 1981, and served as the chair of the Physical Education Department from 1990-97, 1998-2000 (interim dean of Professional Studies in 1997-98), and from 2000 until his retirement in 2008 as Associate Professor and Chair Emeritus of Physical Education
* As men's lacrosse head coach for seven seasons from 1984-90 his teams posted a combined 60-44 record and made six NCAA Division III tournament appearances, including national semifinal showings in 1985 and 1986
* Led Cortland to four SUNYAC men's lacrosse titles, with the team never losing a league game (24-0 record; the conference did not sponsor the sport during his final three years), and was named SUNYAC Coach of the Year in 1985 and 1986
* Men's lacrosse assistant coach for nine seasons from 1974-82, during which time the program made eight NCAA appearances and won the 1975 NCAA Division II title
* Football assistant coach for 13 seasons (1970-75, 80-86), primarily working with linebackers and defensive ends
* Wrestling head coach during 1971-72 season and assistant coach for two other seasons in the early 1970s
* Head lacrosse and wrestling coach, and assistant football coach, for three years at Baltimore Junior College from 1964-67; his 1967 lacrosse team was undefeated and won the unofficial national junior college championship
* Held teaching and coaching positions at York (Pa.) Junior College and Manhasset (N.Y.) High School in the early-mid 1960s
* Prior to his arrival at Cortland he was the district chairman of health and physical education of the Northeastern School District of York County (Pa.)
* Infantry Medic in the U.S. Army in 1960-61
* Played semi-professional football in Pennsylvania for two seasons
* Received Distinguished Alumnus Award in 2015 from Lewiston-Porter Central High School
* Researched and wrote an extensive campus essay on the genesis and evolution of physical education at Cortland, including the history of Cortland Athletics, as part of the College's 2018 Sesquicentennial history project
* Has worked numerous summer lacrosse camps and clinics at Cortland, and has served as the Cortland/Homer Youth Hockey President
---