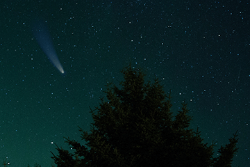 10/10/2021

An astronomy and physics expert from Ithaca College will discuss how humans can predict and ward off one of the most "out there" but least considered threats to the planet's survival: a collision with the earth by a giant asteroid.
Beth Ellen Clark, a mission asteroid scientist with the National Aeronautics and Space Administration's OSIRIS-REx since 2011, will focus her lecture on the subject of NASA's OSIRIS-REx Asteroid Sample Return mission with the talk, "Extreme Hazards: Planetary Collision," at 4:30 p.m. in Moffett Center, Room 115, on Wednesday, Nov. 10, at SUNY Cortland.
Currently a professor and chair of Ithaca College's Physics and Astronomy Department, Clark's talk continues the 2021-22 Rozanne M. Brooks Lecture Series of lectures or poster sessions at SUNY Cortland, which this academic year focuses on the theme of "The Culture of Extremes."
A reception to welcome Clark will begin at 4 p.m. in the Brooks Museum, Moffett Center, Room 116.
The Brooks Museum lecture presentations all take place on Wednesdays and begin at 4:30 p.m. in Moffett Center, Room 115.
The Brooks Museum lectures and receptions are free. Due to continued health and safety concerns surrounding the pandemic, members of the public are not invited. Seating will be limited and cannot be exceeded so please come early to secure a seat. Depending on the current public health circumstances, a reception to welcome each speaker before the talk may be announced. Events in the series are subject to change.
Clark, who earned her doctorate in geophysics at the University of Hawai'i at Manoa, Honolulu, with a dissertation on the "Spectral Effects in the Search for Links Between Meteorites and Asteroids," will help the participants imagine case scenarios that are worse than climate change.
According to the geologic record, asteroids have been known to collide with the Earth, and if a hazardous asteroid is large enough, the energy released on impact and the subsequent damage to life on Earth can be extreme.
"What are Earthlings doing to mitigate this danger?" said Clark.
Mitigation scenarios require knowledge of a large number of parameters, such as velocity, size, density and more, she noted.
"We will review the ways in which NASA's recent OSIRIS-REx Asteroid Sample Return mission is contributing to our quest to protect planet Earth from potentially hazardous asteroids," Clark said.
A member on the Astronomy Review Panel of the National Science Foundation since 2020, Clark has worked on two additional NASA projects since 1996, NEAR and GALILEO as well as other special missions in observing mission development and in spectrometer.
Clark, who joined Ithaca College in 2001, has chaired the department since 2016. During 2009, Clark served as a visiting professor at the Observatory of Paris in Meudon, France. She also was a visiting assistant professor at Cornell University's Department of Astronomy from 2001 to 2008.
Clark studied field geology on the exotic terrains of Northern California and earned a certificate from the International Space University in Toulouse, France, where her project was the International Mars Mission. She has a bachelor's degree in geology from University of California at Berkeley.
"The Culture of Extremes" features lectures that address how, in the last couple years, America and the rest of the world have been wracked by extremes that include political brinksmanship, apocalyptic weather events, deadly pandemic, economic collapse and social upheaval.
The presentations this year will inform the campus community on extreme beliefs and extreme events that surround us from near — such as COVID-19 — to far — such as outer space, said organizer and Brooks Museum director Sharon Steadman, a SUNY Distinguished professor and faculty member in SUNY Cortland's Sociology/Anthropology Department.
The 2021-22 Brooks Lecture Series is sponsored by a grant from the Cortland College Foundation, the Sociology/Anthropology Department and the President's Office. For more information, contact Steadman at 607-753-2308.
Image by Chris Henry courtesy of Unsplash
---