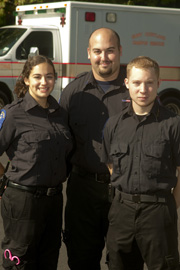 06/12/2012

From a raised section of Interstate 81 near Binghamton, N.Y., the SUNY Cortland Emergency Medical Services (EMS) team spotted building tops and portions of children's playground equipment poking above the floodwater in the distance. It was Sept. 10, 2011, and heavy rains had just pounded New York state's Southern Tier.
"I remember driving there and thinking: 'We've got some serious work to do,"' said Matthew Green '12, the former EMS chief.
So as the surrounding areas sorted through the devastating flood's aftermath, a brave troupe of SUNY Cortland students leapt into action to help their neighbors to the south. They worked "full force" for 46 straight hours, aiding the Harpur's Ferry Student Volunteer Ambulance Service at Binghamton University, Green said.
The Central New York Regional EMS Council considered that quick response to the flood victims when selecting the SUNY Cortland student group for its EMS Agency of the Year Award. The SUNY Cortland EMS will be honored on Tuesday, July 17, at Drumlins Golf and Country Club in Syracuse, N.Y.
"There's a reason — plenty of them, actually — that they came to the top of the pile of nominations as agency of the year," said Warren Darby, the president of the Regional EMS Council. The award, Darby said, has been presented both to campus and professional emergency first-response crews in the past. It recognizes one agency in a region that covers five counties: Cayuga, Cortland, Onondaga, Oswego and Tompkins.
And it comes for the first time to SUNY Cortland EMS.
"This is something we'd never been able to accomplish, something we probably would never be considered for in the past," Green said.
Founded in 1976, SUNY Cortland EMS is a non-transporting agency, meaning that it does not provide transportation to hospitals. It is staffed by student volunteers 24 hours a day, seven days a week while classes are in session. Its student volunteers are highly qualified in basic life-support skills and there is at least one certified New York state emergency medical technician with each crew at all times.
The last two years, however, have been particularly special for SUNY Cortland EMS, Green said. The group "rebranded" by rewriting its standard operating procedure. It even went so far as to repaint its campus ambulance with a dragon logo and bold red and black lettering to match the College's University Police Department.
"We had become such a professional organization and it was about time that we properly showed it," Green said.
The group's work went beyond written words in a mission statement or a fresh coat of paint. Membership has more than doubled since Green's freshman year — to 67 student volunteers — and morale has ballooned with it. Increased programming efforts, including an educational workshop for local high school and college students about the dangers of binge drinking, have been added by the group.
And SUNY Cortland EMS, which receives between 300 and 400 emergency calls each academic year, hasn't missed a single call in the past two years.
"That says something because we're not full-time volunteers; we're students first," Green said. "These calls don't just come while we're on shift. They come when we're in class and they come at any time during our weekend when we should be out with friends. And we've made them all."
This year, the group also responded courageously to heartache.
While EMS was making the last of its four trips to help flood victims in the Southern Tier in late October, Michael C. Holland, the group's faculty advisor and the College's executive assistant to the vice president for student affairs, died suddenly from a heart attack.
He passed away after helping students deliver emergency supplies and clean up flood wreckage.
"Mike was our biggest advocate and he supported everything we did," Green said, mentioning that Holland cared enough to check on the grades of student volunteers and ask for their opinions on complex EMS-related decisions.
At the student group's end-of-the-year banquet, an event Green called the crowning moment of his EMS experience, members bestowed the first Michael C. Holland "Committed to Excellence" Award to Holland's family. "Committed to Excellence" is an expression that SUNY Cortland EMS lives by and one that Holland exemplified, Green said.
"Whenever we achieve something, he's on our mind," Green said. "And that certainly will be the case (when the group receives the EMS Agency of the Year Award) in July."
Both Green and Darby, who will present the group with its award, said that the honor recognizes more than a single flood-relief effort or a series of effective educational programs. The award, both men agreed, was several years in the making.
"The pride that this group has is palpable, from general member to advisor," Green said. "In collegiate EMS, that's how we survive. With a four-year overturn, if you don't absolutely love this place, if it's not something you can have respect for, then it will sink.
"No one's getting paid here. No one's reaping the reward of (course) credits. It comes from loving the organization, loving the people in it and knowing that you're doing a great thing."
Other SUNY Cortland past and present EMS officers who will receive the EMS Agency of the Year Award with Green include: Katherine Aylward '12, Austin Glickman '12, Sean Jolliff, Devon Keir, Amanda Linehan, Rebecca Schwartzman '12, Katharine Warszycki and Alexander Watkins. Scwartzman, Gilckman and Green are pictured above to the left.
---