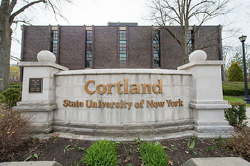 09/11/2020

The following message was sent on behalf of President Erik J. Bitterbaum:
To the SUNY Cortland community,
Over the last several days, the number of SUNY Cortland students testing positive for COVID-19 has spiked from six to 34 cases. Dozens of students are in precautionary quarantine, both on campus and off. Students living in tightly packed off-campus housing have created several clusters of COVID-19 in the community.
The accelerating spread forced us to eliminate athletic practices, limit Greek activities, and stress, once again, how critically important it is to follow university guidelines on gatherings, face coverings and physical distancing.
Next week, we hope to add more weapons to our battle against the pandemic.
If SUNY approves our plan, SUNY Cortland next week will begin two different surveillance testing programs that will allow us to better assess the COVID-19 threat to our community and target our efforts to stop the virus' spread.
Through a partnership with SUNY Upstate Medical University, we plan to begin pool testing groups of asymptomatic students and employees on Wednesday, Sept. 16. After that initial testing run of about 300 people – roughly 5% of our student population – we will continue pool testing different cohorts of asymptomatic individuals weekly. Our goal is to test 500 students every week.
Currently, we have the ability to test only individuals who exhibit symptoms or who have been in contact with someone who has COVID-19. Through the system developed by SUNY Upstate, however, we can dramatically broaden our testing capacity in a way that could give us early warning of likely virus hotspots and take action in time to stop major outbreaks.
The pool testing will be mandatory for selected students. Faculty and staff members are strongly encouraged to volunteer. The first round of tests will be done on a randomly picked group of people. Selected students will be notified and given a scheduled time to go to Park Center Alumni Ice Arena, where a saliva sample will be taken. Employees interested in being pool tested should complete a brief survey indicating they want to be included.
Samples will be pooled into groups of about 12 and tested as a single unit. If any of the groups show signs of the virus, all individuals in that group will be tested using the more traditional sinus swab. Positive cases will trigger extensive contact tracing by the Cortland County Health Department, leading to preventative quarantines and tests on additional individuals.
This approach will allow the university to identify campus cohorts (students living on a particular residence hall floor, participants in a sport or other group activity, etc.) that might be at higher risk for exposure to COVID-19. It will allow us to focus testing and prevention efforts where they might have the biggest impact.
In addition to the pool testing, next week we will also begin weekly wastewater testing for COVID-19. Samples from seven different locations allow the university to narrow potential buildings down to particular buildings or areas of campus. This will help us determine the most likely groups for pool testing.
I want to make all community members aware that once we begin testing, we are likely to see our number of positive cases grow larger. It may not indicate a sudden change for the worse, it might just be allowing us to see the true scope of the existing problem.
The changing situation makes it more important than ever for all members of our community to take this threat seriously. Most students are behaving safely, but it only takes a small number of reckless people to have a very large, and potentially very serious, impact. For information on safe practices during the pandemic, please review the SUNY Cortland's Fall 2020 Guide.
If you see people acting unsafely, please let us know. The most effective and efficient way is to complete an online SUNY Cortland incident report, providing as many details as you can. I urge you all to keep track of the quickly changing situation by frequently checking SUNY Cortland's COVID-19 dashboard, which is updated daily.
I believe we are currently at a crossroads. The direction the virus takes at SUNY Cortland over the next couple of weeks may well determine the health of our community, the fate of the fall semester and possibly the lives of people we hold dear.
Please help us move things in the right direction.
All the best,
Erik J. Bitterbaum
---