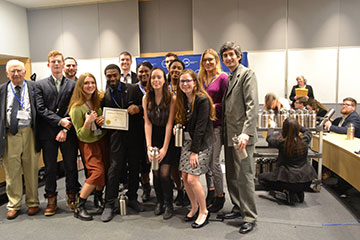 04/18/2017

European issues and conflicts affect all parts of the world.
SUNY Cortland's Model European Union participants recognize this and hope to gain knowledge and experience from SUNY Model European Union (SUNYMEU) to use in an international studies-related career.
Hoping to polish her public speaking and negotiation skills, Maya Zaynetdinova is one of 12 SUNY Cortland students who attended the SUNY Model European Union conference held March 30 to April 2 in New York City.
The conference alternates annually between New York City and Brussels, Belgium.
"I look forward to meeting students from other schools and participating in the negotiations," said Zaynetdinova, an international studies and economics dual major. "I am curious to see the strategies of other countries."
Zaynetdinova, an international student at SUNY Cortland from Moscow, Russia, joined Model European Union this semester.
The conference gives students the opportunity to represent one of the 28 member-states of the European Union; an institution of the EU, such as president of the EU Commission; president of the Council of Ministers; or representatives of a political party in the European Parliament, such as the Progressive Alliance of Socialists and Democrats.
| | |
| --- | --- |
| | |
| | At the recent conference, the students participated in a test trial of a role-play simulation. Above left, the SUNY Cortland delegation and professors gathered at the SUNY Global Center in New York City. |
Cortland represented Greece, Denmark and Romania this year.
Similar to the Model United Nations, students participated in role-play simulations addressing major issues in international studies, according to Model EU project coordinator Alexandru Balas, director of the Clark Center for Global Engagement and assistant professor of international studies at SUNY Cortland. However, SUNYMEU occurs in a much smaller setting consisting of around 30 students. Compared to the Model UN setting of 193 represented states, the smaller size of the Model EU allows for students to focus more on the substantive issues and on the negotiation skills.
"Model EU is a great opportunity to become a better negotiator, which is crucial not only for any international work, but really for all professions," said Zachary Curtis, a sophomore international studies major from Cortland, N.Y. "It will also help me immensely to be exposed to methods of governance we just don't have in the United States."
In November 2016, Balas received a Model European Union Simulations grant of 31,000 euros, equivalent to approximately $33,000, from the EU Delegation to the U.S. Also named as grant recipients were SUNY Cortland, Andreas Kotelis, 2017 Clark Center for Global Engagement scholar in residence, and Noam Ebner, professor of negotiation and mediation at Creighton University in Omaha, Neb.
The new funding supports the development, by the end of 2017, of three role-play simulations of the European Union Delegation to Washington, D.C.
At the recent gathering, the students had developed a simulation over the mandate given to the European Commission for negotiating a real or fictional free trade agreement with a major global economic power. They also planned to develop a simulation over policies regarding refugees and security. Another simulation involved a role-play negotiation on anti-terrorism cooperation.
"This should get good exposure for SUNY Cortland as the expectation is that these three simulations will be used hundreds of times in international studies and political science courses throughout the country," said Balas, who represented SUNY Cortland at the annual coordination meeting of the European Union Jean Monnet Network in the U.S., from Dec. 7 to 9, in Washington, D.C.
The grant continues the Model European Union tradition at the College started by Henry Steck, a SUNY distinguished service professor and professor emeritus of political science at SUNY Cortland. This is the sixth award for the College's Model European Union-related funding for simulations that are currently underway, two of them through 2021.
In 2015, Balas received the European Union Erasmus+ Jean Monnet Module grant of 30,000 euros, or nearly $32,000, to establish SUNY Cortland as one of two SUNY schools that are members of the European Union Jean Monnet Network.
"Given the current state of the European Union and the current challenges from Brexit to the rise of extreme right-wing parties and politicians, from the immigration crisis to the financial-economic crises, knowledge of the European Union is a must for global citizens nowadays," Balas said. "Thus, this second grant will hopefully anchor European Union Studies at SUNY Cortland and promote an understanding of the continent which hosts most of our study abroad students."
For more information, contact Balas at 607-753-2250.
Prepared by Communications Office intern Jamie Winsper
---