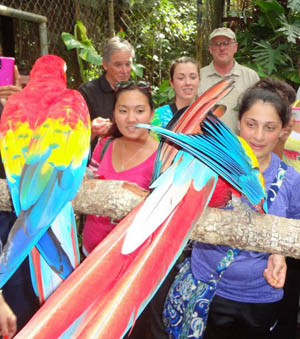 11/20/2012

Belize, a small Central American country with a scattered population roughly the size of Buffalo, N.Y., lately has become a magnet for SUNY Cortland students.
The College will send about 50 students to the country in the time-span between this past summer and the Spring 2013 semester.
Thomas Pasquarello, a SUNY Cortland political science professor and the College's unofficial ambassador to Belize, said there's good reason for Belize's popularity as a study abroad destination.
"It's relatively close for an international location; it takes five hours to get there by airplane," Pasquarello said of the country formerly known as British Honduras. The 350,000 citizens reside on about 8,860 square miles in the northeast coast of Central America, bordered by Mexico to the north and Guatemala to the south and west.
"It's a tourist destination so it's relatively easy to get there. It's reasonably safe. It's English speaking; education and business are conducted in English. Yet culturally it's amazingly diverse. That makes it an ideal place for international programs."
Pasquarello has long championed the College's unique relationship with the Belize Zoo. He operates a blog about the educational and recreational destination at tbzblog.blogspot.com. He continues to share information about zoo fundraising and friend-raising in the Cortland community. This past summer he became a co-director of the annual summer Teacher Institute in Belize.
"I would describe it as a partnership. It's longstanding, multifaceted, it includes a lot of different programs and different people," Pasquarello said. "On the Belize side, the Belize Zoo and the Ministry of Education have been partners.… I believe both sides benefit tremendously."
Gonda Gebhardt, the College's assistant director of international programs, praised the personalities of this country's populace.
During this past summer's Belize Teacher Institute, Belizean and U.S. teachers explored the Xunantunich Maya ruins together. In the image on the upper left, Jennifer Chan, shown center foreground, and Lorraine Campanaro, right foreground, feed the scarlet macaws at the Belize Zoo while classmates and faculty look on.
"The Belizean people are really nice, laid-back people that welcome our students," she said. "They are easy to develop relationships with. The students who go and work there really can feel that they can make that difference because the country is so small and in Belize, they have a need for interns to come with the skills they have."
Here are some of the newest initiatives regarding SUNY Cortland students and the tiny Central American country:
• Recreation, Parks and Leisure Studies Department faculty members Lynn Anderson and Vicki Wilkins expect to lead a team of 10 or more students in March to the Belize Zoo, where they will roll up their sleeves to assess and help implement physical access for individuals with disabilities. The Belize Zoo Transformation Project will build on the successful New York State Inclusive Recreation Resource Center that Anderson and Wilkins operate at SUNY Cortland to make parks and recreational areas across New York state available to all.
• Next spring, Professor of Art and Art History Jeremiah Donovan will launch a pilot program to accomplish in Belize what he did in China with past classes. The six to eight students enrolled in his Belize Winter Study: History, Culture, and the Arts course will work to identify, recreate and preserve for posterity the country's traditional styles of pottery making. The study of ceramic artifacts is expected to reveal more about the great Mayan civilization that existed there some thousand years ago. The class will collaborate with University of Montana students and Jaime Awe, a leading archeologist from San Ignacio, Belize.
Students continue to participate in other projects, including:
• Brian Rivest, a professor of biological sciences, this winter will once again bring his marine biology class to explore the world's largest still-living barrier reef off the east coast of Belize in the Caribbean Sea. His biennial class is an extended, four-credit course in which the students learn the science and the snorkeling in Cortland, then travel to Belize in early January and literally jump right in to the first-hand experience. For 11 days, the 24 students dive twice daily from an island on the barrier reef. They also briefly visit a tropical ecosystem in southern Belize.
• Through the College's International Programs, individual students can arrange internships in human services, business, recreation, health, environmental preservation, archaeology, special education, wildlife preservation or other areas. Seven took the plunge between summer this past summer and next spring. Two students will be there in the spring. A business economics major will intern at Cotton Tree Lodge, a unique eco-lodge hidden in the jungles of southern Belize. Meanwhile, a community health major will experience hands-on learning at Cornerstone Foundation, a local agency that helps the community.
• At the summer Teachers Institute in Belize, three SUNY Cortland undergraduates and two graduate students joined three working teachers from around New York state to spend a week with resident educators sharing ideas and observing cultural differences. The program has evolved as an opportunity for Belizean educators to train themselves as master teachers. The Cortland participants earn course credit while immersing themselves in another country's educational system and culture.
During the Summer Institute for Teachers, Jennifer Chan and Lorraine Campanaro used their free day to ride horseback through the jungle. The two senior childhood education majors said their first international learning experience placed them inside a tropical ecosystem where they spied many Mayan ruins draped in the undergrowth. Exploring the human, cultural differences was even more rewarding.
"I thought that (the Belize teachers) really used the resources around them," said Campanaro, of Mohegan Lake, N.Y. "They don't have a lot of technology and they are great with recycling and conservation. I was in awe of them, because unlike here in the U.S., they don't have much to fall back on."
Chan relished watching the way Belizeans mingle English with several other working languages in Belize, including phrases in Kriol, Garinagu, Mayan and Spanish.
"What I got out of it most was just the cultural aspect of living there and seeing what they go through every day," she said. "I never thought in five days you could become so close to these amazing people, but at the end of it, we ended up crying to leave people we barely knew. Relationship building is really important."
"I would definitely recommend Belize because I'm going into student teaching soon and this was all about building myself up as a professional," said Campanaro, who now volunteers with International Programs to share her summer experience with others. "I came back ready to jump into the classroom and spread my ideas."
"We do meet with all students individually to talk about Belize before they go," said Gebhardt, who has worn both hats as a study abroad administrator and as a graduate student in the most recent summer Teachers Institute in Belize. "Everyone thinks of it as a beautiful semi-tropical paradise, it's still very much a developing country. There are chamber of commerce brochures that give the country an idealistic look. But you need to be ready to see the poverty and the trash alongside the road.
"Particularly with the internship program, the students need to be self-starters," Gebhardt said. "They need to realize a lot of time it's up to them to figure out what the agency really needs help with and then to do it. And the workspace sometimes is very humbling, maybe one desk and an antiquated computer."
"Many of them have never been overseas and some of them have not flown," said Rivest. The biologist has taken his students to Belize instead of Jamaica since 1994 because of the pristine state of the barrier reefs.
"They get off the bus surrounded by Mayan children who are begging, pleading, for the opportunity to carry our bags up a quarter mile path to the camp we stay in."
The group soon relocates to its astonishingly remote diving location.
"I deliver the academic program, lecturing on Turtle Grass (Thalassia testudinum) beds, and then we go snorkeling in the Turtle Grass beds on the barrier reefs."
Two SUNY Cortland students plan to intern in Belize next spring and five other participants hailing from other SUNY campuses also will benefit from the College's program.
"Belize Zoo placements are quite competitive and only will accept students for about four weeks," Gebhardt said. "We have one student who's interested in a Belize Zoo internship and when she's completed that in the spring she's going to the Bacab Eco Park (a nature-oriented family resort). She's an outdoor recreation major, and she's going to work there for 12 weeks through the end of the semester."
The Belize internship program recently gained a coordinator, Nancy Adamson. A U.S. citizen, the retired academic uses her many connections there to help the College set up internships. Adamson assists the students with academic advisement in some disciplines, transportation from the airport, orientation and placement with host families.
In a survey of last year's internship participants, the students reported gains in practical on-the-job experience, interpersonal skills and adaptability. Some noted they have adopted a different perspective on American culture and that their internship enhanced their employability.
Belize offers an emotional experience that imprints itself permanently into many participants' minds, Rivest said.
"I've heard from students who took the class years ago and it's described as the most memorable experience from their education here at Cortland," Rivest said. "I have the advantage, of course, of taking them to a tropical island where the water is warm and clear. We're watching the sunrise over the mainland from 13 miles away every day. Aesthetically it's beautiful, but it's also a full immersion experience and the students remember things from this class in a way that's difficult to replicate on campus: to talk about a species of coral and then go out and look at it in your hand."
---