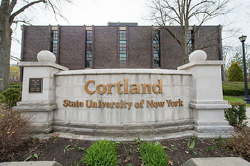 07/03/2020

The following message was sent to the SUNY Cortland community on behalf of President Erik J. Bitterbaum:
Members of the SUNY Cortland community,
I am pleased to announce that SUNY Cortland's plan to restart on-campus instruction for the Fall 2020 semester has been certified by the SUNY system.
This approval means that our plan meets all of Governor Andrew Cuomo's restart requirements for colleges and universities and allows all of us to move forward knowing that, unless the pandemic begins taking a more threatening course in New York, classes will resume in Cortland on Aug. 31.
The plan focuses on the monumental effort to resume activity safely while providing a high-quality educational experience. Our proposal includes extensive screening, testing and contact tracing, arrangements for quarantine and isolation and our plan for quickly moving back to distance learning in the face of a serious campus outbreak.
Details of the plan continue to be developed at all levels of campus operations and will be made public as they are finalized. Please keep in mind that, during a global pandemic, no plan is set in stone. Significant changes in the local, regional or statewide situation created by COVID-19 could result in adjustments to the plan.
The most recent information will be shared on the Restart SUNY Cortland website.
Although New York state continues to make progress in slowing the spread of COVID-19, SUNY Cortland is closely monitoring the situation in other states, many of which are experiencing rising numbers of cases and hospitalizations.
New York, New Jersey and Connecticut recently issued a travelers' advisory for states that have either a 10% positive test rate or a test rate higher than 10 per 100,000 residents over a seven-day rolling average. Anyone returning from one of the identified states is required to quarantine for at least 14 days.
The list of states falling under this advisory has grown significantly. An updated list is available online. As of Thursday evening, the restricted list included:
Alabama
Arkansas
Arizona
California
Florida
Georgia
Iowa
Idaho
Louisiana
Mississippi
Nevada
North Carolina
South Carolina
Tennessee
Texas
Utah
It is the responsibility of every SUNY Cortland employee to check the updated list before traveling out of state. If their destination state is listed, they should review their plans with the Human Resources Office to make sure measures are in place for when they return to New York and begin their two-week quarantine.
Thank you for your continued support of a safe return to campus.
All the best,
Erik J. Bitterbaum
---