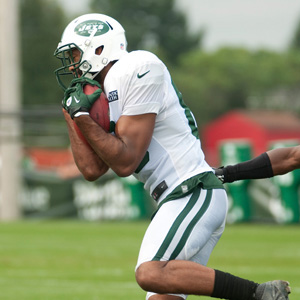 06/30/2014

The New York Jets will officially start 2014 training camp at SUNY Cortland on Wednesday, July 23, when the team reports to campus.
The first practice open to the public will be Thursday, July 24, kicking off three weeks of action by a squad filled with several high-profile additions made during the offseason. Tens of thousands of fans are once again expected to visit the Jets practice fields at SUNY Cortland during the camp.
In addition to watching favorite players from the sidelines at public practices, fans can pick up the latest gear and merchandise at the Jets Shop tent and check out this year's Jets Fest, an interactive football theme park for children that offers skill challenges and inflatable rides.
The team also plans to add to this year's Green & White Practice, slated for Saturday, Aug. 2, with player introductions, fan contests and entertainment.
Admission, as always, is free. This year, fans again are required to print tickets from the team's website before attending practice. Fans can register and print tickets by visiting the team's training camp page before making the trip to camp. This procedure also applies to the Green & White Practice.
Camp visitors should use SUNY Cortland's Stratton Drive entrance off of Route 281. Parking attendants will greet fans at the entrance and direct them to the camp parking area. Parking costs $5.
Following each practice, Jets players will usually be available to sign autographs for fans along the sideline. Visitors should note, however, that autographs are not guaranteed. Available players will sign autographs if weather, time and other circumstances permit.
In addition, Gen Jets Kids Club members will have a kids-only player autograph area at all practices. Space is limited to the first 100 kids each day, so fans are encouraged to check in their children upon arrival.
The 2014 camp will be the fifth Cortland camp under six-year head coach Rex Ryan. In 2013, 21,000 visitors from 34 states and five countries spent more than $1.6 million locally, creating an economic impact of nearly $3.7 million, according to a study by SUNY Cortland faculty members. Together, the four New York Jets training camps hosted at SUNY Cortland since 2009 have generated $19.24 million in economic impact for Cortland County.
SUNY Cortland's partnership with the Jets continues to provide year-round opportunities for the College's students and alumni. It also generates more than $5 million in tourism spending in the region every summer.
"New York Jets training camp has become one of the region's most unique summer events for sports fans, and SUNY Cortland is very proud to host it again in 2014," said College President Erik J. Bitterbaum. "With some of the best football players in the world practicing a morning's drive away from just about anywhere in Central New York, the Finger Lakes and the Southern Tier, tens of thousands of visitors are once again expected, providing a big boost for local businesses and great exposure for the College."
Although the Jets invite all fans to attend open practices, please note that the training camp schedule is subject to change. Practices may be canceled or closed to the public in the event of inclement weather.
Fans should call the team's fan line at 973-549-4844 or visit newyorkjets.com/camp for the most up-to-date news regarding practice schedules. Updates are also available on Twitter and Facebook (facebook.com/jets).
All camp visitors will be subject to security procedures, including bag searches.
2014 NEW YORK JETS TRAINING CAMP PUBLIC PRACTICE SCHEDULE
All dates and times are subject to change.
For every practice listed below, camp gates, Jets Fest and Jets Shop will be open from 9 a.m. until 1 p.m. daily. For the Green & White Practice, gates, Jets Fest and Jets Shop will be open from 5 to 9:30 p.m.
Thursday, July 24 10 a.m.
Friday, July 25 10 a.m.
Saturday, July 26 10 a.m.
Sunday, July 27 10 a.m.
Tuesday, July 29 10 a.m.
Wednesday, July 30 10 a.m.
Thursday, July 31 10 a.m.
Friday, Aug. 1 10 a.m.
Saturday, Aug. 2 Green & White Practice at 7 p.m.
Monday, Aug. 4 10 a.m.
Tuesday, Aug. 5 10 a.m.
Saturday, Aug. 9 10 a.m.
Sunday, Aug. 10 10 a.m.
Monday, Aug. 11 10 a.m.
Tuesday, Aug. 12 10 a.m.
Wednesday, Aug. 13 10 a.m.
---