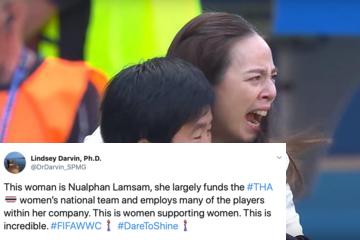 06/25/2019

On June 16, Thailand's Kanjana Sungngoen scored a late goal in a 5-1 loss to Sweden in the group stage of the Women's World Cup being played in France. It was a pivotal moment for Thailand, which had lost to the United States, 13-0, just a few days earlier. Cameras cut to the sidelines to capture the emotional response from coaches and teammates.

One woman in particular, Nualphan Lamsam, was among them. Although the broadcasters did not know her role in growing women's soccer in Thailand as general manager and financial benefactor, Assistant Professor Lindsey Darvin of the Sport Management Department did. Darvin's tweet on Lamsam has generated 3,200 likes and 1,100 retweets and resonated with soccer fans across the globe.

Darvin is working with Ann Pegoraro, an associate professor of sport management at Laurentian University in Ontario, Canada, to analyze the social media response to the U.S. team's goal-scoring celebrations in its 13-0 win over Thailand. Their goal is to shed light on the perceptions and stereotypes associated with women's sport and the cultural differences that may influence athlete and team behaviors.
In other news:
Kenneth Cohen, associate professor of recreation, parks and leisure studies, was quoted in WalletHub's May 29 online article, "2019's Best & Worst Cities for Staycations." In order to determine the best staycation spots, WalletHub compared 182 U.S. cities — including the 150 most populated U.S. cities, plus at least two of the most populated cities in each state — across three key dimensions: 1) recreation, 2) food and entertainment and 3) rest and relaxation.

Sports Information Director Fran Elia's expertise on strange softball plays was featured by Softball Coach, an organization that provides tips and advice to softball coaches.
---