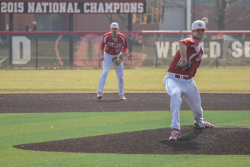 02/23/2021

SUNY Chancellor Jim Malatras and the presidents of the State University of New York Athletic Conference (SUNYAC) have approved the resumption of intercollegiate athletics for the 2021 spring sports season. The league's 2020-21 fall and winter seasons were canceled due to the COVID-19 pandemic.
The spring sports sponsored by the SUNYAC include baseball, softball, men's and women's lacrosse, men's and women's outdoor track and field and women's tennis. SUNY Cortland also plans on competing this spring in women's golf, although that sport competes in the Northeast Women's Golf Conference. The SUNYAC consists of 10 institutions — Brockport, Buffalo State, Cortland, Fredonia, Geneseo, New Paltz, Oneonta, Oswego, Plattsburgh and Potsdam. Morrisville State is an affiliate member of the league for field hockey and men's ice hockey, but no spring sports.
"The pandemic has kept our student athletes off the playing field for too long, but thanks to the great work and effort of SUNYAC Commissioner (Tom) DiCamillo, our campus presidents, the SUNYAC leadership, athletic directors, coaches and our athletes, we've developed a workable plan to resume athletic competition at SUNY," said Malatras. "I look forward to all of the great competition this year, and SUNY, like always, will aggressively handle any situations related to COVID as they emerge. I have confidence in our students—both on and off the field—to stay the course and comply to keep one another and our entire campuses and communities safe."
"We are certainly excited and pleased to hear this officially," said Cortland Director of Athletics Mike Urtz '94, M '00. "We have been waiting with bated breath for some time. There was always that hope that we could play this spring, but to hear it officially is a real sense of relief. I'm just really happy for the student-athletes and the coaches. This is the right thing to do. It's the right decision. We are excited to really get to work as we look to return to competitive action for the first time since last March."
"Athletics is an important aspect of student life at SUNY Cortland and I am grateful to the dozens of individuals who worked to create a plan that will allow SUNYAC teams to safely resume competition," said Erik Bitterbaum, president of SUNY Cortland and chair of SUNYAC's presidents council. "I am immensely proud of our student athletes and I know they will make the most of this opportunity."
Competition may begin on Saturday, March 20. Additional details are available at SUNY.edu.
The approval is based upon a detailed collaborative plan developed by more than 50 individual athletic administrators, coaches, assignors of officials, certified athletic trainers and sports information directors who pooled their vast experience to create a safe environment to conduct athletic competition.
Spectators will not be permitted to attend contests at this time. Any future decision on spectator attendance will follow New York state, SUNY, local departments of health and institutional guidelines.
The SUNYAC will employ a divisional model for its conference schedule in most sports to reduce travel. These schedules, as well as any possible non-conference games, will be announced in the near future.
The approval is contingent upon the continued positive trajectory of the pandemic and the state of the COVID-19 virus on member campuses. The plan meets the guidance provided by the NCAA, New York state and local departments of health and the SUNY System. The SUNYAC presidents have shared the conference plan with their local departments of health.
Student-athletes, coaching staff members, officials, media members and game day administrative personnel are expected to be masked at all times. Student-athletes, however, are not mandated to wear masks once they enter the contest in their respective sports. The Uniform Sanctioning in Response to COVID-19 Student Violations policy has not changed and will be enforced.
The decision on whether to postpone a SUNYAC conference contest or championship when COVID-19 positivity rates rise will be tied directly to that institution's approved plan with its local department of health. The institution will make the decision on what activities will continue or be postponed as well as any additional safety measures that will be implemented.
Stay up-to-date with SUNY Cortland athletics at CortlandRedDragons.com.
---