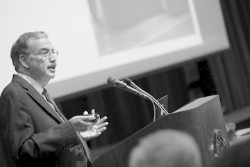 02/17/2021

Dear students,
We need your help.
The clear majority of Cortland students are taking responsibility to stop COVID-19 transmission by participating in surveillance testing, social distancing and wearing masks. However, a few students are endangering us all by sometimes acting against these best practices.
We currently have messaging and strategies meant to help encourage students to comply, but we are aware that more must be done.
I am asking for your help in these two ways:
Take this survey: We have developed a survey to help assess the effectiveness of our messaging strategy.

Attend this meeting: At 3 p.m. on Friday, Feb. 19, we are hosting an open meeting to discuss these ideas. Join via Webex.

The actions of a few students are threatening the health of our community and the operations of our campus. We need to work together to get our message out.
All the best,
Erik J. Bitterbaum
President
---