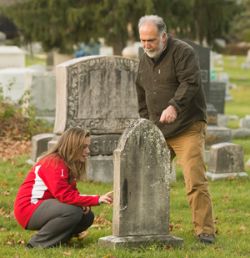 11/04/2014

Next spring, the stately, more-than-a-century-old Crimson King maples, Balsam firs, Bur oaks and White spruces dotting the slopes of the Cortland Rural Cemetery will become more than landscaping for the final resting place of hundreds of former area residents. They will be a recreational and educational attraction for living human beings.
Likewise the gravesites themselves will be treated not just as memorials, but as objects of historical, scientific and artistic interest when a town-gown project that is currently underway bears its fruit.
Visitors to the cemetery in recent years have been somewhat limited to people with family members buried there, according to John Hoeschele, president of the cemetery's Board of Trustees and a volunteer with the Cortland Rural Cemetery Foundation.
But the general public will be welcomed back for daytime walks along its green avenues once an extensive project involving SUNY Cortland and members of the local Cortland community embellishes the site with an informational kiosk, interpretive signs and tree identification plates.
Geology Lecturer Timothy Conner and his student intern, childhood education major Sophie Louise Jackson, examine a particularly interesting headstone in Cortland Rural Cemetery as they gather information to include in the interpretive trail literature that is being developed through the Operation Greenspace! project.
Called Operation Greenspace!, the project teams the Cortland Rural Cemetery board of trustees and employees with the College's art and art history, biological sciences, geography, geology and recreation, parks and leisure studies department faculty members and their student interns.
Some 150 years ago the Cortland Rural Cemetery was designed in the "garden" or "rural" cemetery style that was sweeping the country in the mid-1800s, explained Hoeschele.
Such locations were intended to be both a place to memorialize the dead and provide a kind of regal, sprawling park for the living.
"People were encouraged to walk in the cemetery and visit loved ones, picnic, socialize with neighbors and enjoy nature," he said.
Period photos of Cortland show the citizens enjoying their new, park-like cemetery in just that way, he noted.
"Somehow we kind of lost contact with that over the intervening years," Hoeschele said. "We would like to reacquaint Cortland residents with their cemetery as a green space and as a resource to the community, so we will be able to get more support from the community."
Hoeschele worked jointly with the Cortland Rural Cemetery Foundation — the cemetery's dedicated and separate fund-raising board — to apply for and receive a $30,000 Operation Greenspace! grant from the JM McDonald Foundation, a 62-year-old trust that supports charitable efforts, primarily in upstate New York. Last spring, with the financing secured for signs, tree identification plates and other needed hardware, the trustees began to collaborate with the College on the information to be exhibited.
Since then, volunteers within the College community have been gathering facts and data to place on trees, interpretive signs and an informational kiosk. The more prominent trees will boast detailed species information. About 20 pedestal signs will share the history, science and cultural information gathered about the cemetery. A key to find specific areas of interest will be offered on a giant map posted at a central kiosk.
All the interpretive signage and maps will be produced by a vendor and placed in the cemetery sometime next spring. Trustees will then announce the resulting, interpretive "cemetrail" and tree markers at a public ribbon-cutting ceremony.
From that point on, College faculty and students and the public at large will be encouraged to use the site during daylight hours as a living museum and research location.
Over time, the goal is to create several different trails throughout the cemetery, explained Wendy Miller, an associate professor of geography at the College.
"Each trail will have a different theme, from history to geology and beyond," Miller said. "The trails will have several interpretive stops where people can learn more about a specific area of the cemetery."
Steven Broyles, professor and chair of biological sciences, last summer counted some 300 trees of 30 different species in the cemetery and ordered descriptive nameplates for 22 of the most noteworthy, including two specimens that he believes will break New York state size records, an American hophornbeam and a European larch. Each tree marker will be bar-coded to interact with a visitor's smartphone and offer more species information.
The botanist's work begins the process of turning the cemetery into a genuine arboretum, according to Hoeschele.
Timothy Conner, a geology lecturer and former longtime high school teacher, has been bringing eighth graders to the cemetery for years, with the site caretaker's permission.
"The stones tell a story," Conner said. Opening this cemetery to the public will provide generations of students an opportunity to try original research in areas like geology, art and history, he said.
Conner assigned Sophie Louise Jackson, a childhood education major from Marcellus, N.Y., to investigate the stone monuments and mausoleums as an independent research project in geology.
"I like to have a student doing this work because it will help that person become a better human being," Conner said. "Sophie is awesome, an absolute bundle of energy. She has looked into where the headstones came from and how they were brought to the site."
Jackson and Conner also are interested in the effect of natural weathering as well as the impact of lichens advancing across various stone surfaces. Another area of inquiry involves the formation of the drumlin, or steep hill, upon which sit both the cemetery and College.
Jackson plans to share her findings at next spring's "Transformations," the College's annual showcase of scholarship, research and creative activities.
Meanwhile, Kathryn Kramer, a professor of art and art history, is working with another student intern, art history major Denise Seidler of Manorville, N.Y., to develop written materials that give voice to the artistic aspects of the cemetery — including monument symbolism, marker forms/shapes, and various artistic styles stemming from different time periods.
As the project advances, Miller, who currently is on sabbatical, will work to diagram the site with another student intern, Mason Young, a geographic information systems (GIS) major and College employee.
"Mason and I are creating a map of the cemetery with the interpretive trail stops identified on it and the others are identifying where the stops should be and what should be mentioned at each stop," Miller explained. "We are using GIS technology and aerial photographs to assist us in our task."
In addition to enriching the culture in his community, Young appreciates the chance to use his newfound computer mapping skills in a real-world situation.
"There are just so many ways to do things with information technology and because of the complexity of the GIS science, how we use it is always changing," Young said. "So every bit of experience I can get my hands on helps make me better at what I do."
Hoeschele looks at Operation Greenspace! as a starting point.
"I'm trying to create a more symbiotic relationship between the College and cemetery than has existed in the past," Hoeschele said. "I can see a whole host of ways we can work together with the College's departments, including opportunities for department projects, field studies and internships."
---