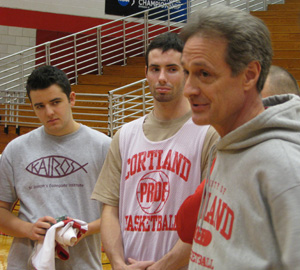 02/22/2012

Edward "Ed" Leone '78 is the ideal family man.
The Syracuse, N.Y., native has parents, brothers, nieces and nephews that he's very close with. His former basketball teammates, unquestionably, are like his brothers, the type of guys that would "take off their right arms for you," Leone said.
And then there are the current student-athletes on SUNY Cortland men's basketball team, a group that soon will benefit thanks to Leone, one of their relatives in the College's basketball family.
The Syracuse-based attorney and former Red Dragon point guard agreed recently to create a $25,000 endowment for the men's basketball team, a fund that will be used to offset major expenses associated with the program such as equipment and travel.
SUNY Cortland's athletic teams compete at the Division III level, so the endowment cannot be used for scholarships. Its purpose, Leone said, is to ensure a new generation of student-athletes can leave Cortland with memories and friendships similar to his own.
"The common threads in my college experience were family and basketball," Leone said. "I learned basketball isn't the most important thing; family and relationships are."
The Cortland teams Leone played on between 1974 and 1978 hardly rivaled John Wooden's UCLA Bruins of the 1970s. They lost more games than they won, but the tough times were the ones that banded the team together.
"Losing stinks, but I'd do it the same way again, just for the guys I met," Leone said.
During his freshman year, older teammates — a group that included Mark Bennett '76, Dale Greabell '76, Edward Prue '76, Robert Dixon '77, Michael Merriman '77, Thomas Mossotti '77 and Thomas Wignot '77 — took Leone in and offered him guidance.
Quickly, the circle grew to include younger teammates, guys like Darrell Becker '78, James Condon '78, Daniel Hopkins '78, Thomas Howitt '78, Terry Murphy '78, Michael Valenti '78, George Brown '80 Wayne Brown '80, Vincent Gaetani '80, Timothy McDermott '81 and Michael Polan '81, and even the team's manager, Edwin Ramos '80, and its Red Dragon mascot, Robert Jacovino '78.
The teammates lived together, ate together and shared their Cortland experience together. They traded stories at the Dark Horse Tavern and settled in an Owego Street residence that became known simply as the Katmandu House, named after the 1975 rock hit by Bob Seger.
"I don't care if it's a school club or a sports team, everyone should be lucky enough to have a group like that," Leone said. "We had so much fun, it's ridiculous."
More than 30 years later, the group remains intact through email, phone calls and a Labor Day Barbeque that Leone organizes. He lives near Mossotti, his former teammate, in Camillus, N.Y., and routinely stops by for family dinners at his best friend's house.
"(Mossotti) jokes and says he has me down as his dependant on his tax return," Leone said.
Joking aside, the two best friends would do almost anything for one another or any of their former teammates. When Mossotti needed a godfather for his son's baptism, he asked Leone.
"I'll never forget when he leaned over to me and said: 'Alright, Eddie, if something happens to me, you're the man,'" Leone said. "I told him: 'I got your back, man. Don't worry about it.'"
It's typical of Leone to look out for the people closest to him, whether that means stopping by to visit his parents, Manuel and Anne, or offering a pick-me-up joke over the phone to a friend. The tendency came from his father, who never missed a single one of his three sons' high school or college games.
Leone applied the devotion his father taught him to his professional calling. Today, he's a partner in the Bottar Leone, PLLC, law firm, where he's worked since the late 1980s with the same mentor, Anthony Bottar, and the same secretary, Sylvia Taub.
Even his acts of service have long-existing roots. For the past 21 years, he's been an assistant basketball coach at Christian Brothers Academy in Syracuse, helping out his friend and former high school teammate John "Buddy" Wleklinski.
"I formed a lot of my thoughts on how to positively impact a person's life — whether it's a kid playing hoops, a friend or a client — from my experiences at Cortland," Leone said.
His work and coaching schedules make it tough to attend games at SUNY Cortland, but Leone made a special trip for a Feb. 4 home game against Oswego. Head coach Tom Spanbauer '83 M.S.Ed. '86 invited Leone to speak to the team after its pre-game walkthrough so that current student-athletes could meet the alumnus behind their new endowment.
"You know, we're not a Kentucky-type program," Spanbauer said, referring to a big name Division I program. "Every penny of our budget counts, and Ed made it a heck of a lot easier on us."
During his pre-game pep talk, Leone offered an important piece of advice to the team.
Leone, No. 51 in the center, poses with the men's
basketball team.
"Play hard, but more than anything, soak everything up, fellas," he advised. "If you have half as much fun as I did when I was here, meet half as many as the people I met, you'll have a great time."
That night, Cortland lost to an Oswego team coached by Leone's nephew, Jason. Leone said it was nerve-wracking to watch his alma mater compete against a squad led by his nephew, a family member he cares for like a son.
"I told Jason not to buy me any Oswego gear, that I'd be wearing my Cortland stuff to the game," Leone said. "But deep down, I wanted both teams to play well."
Either way, Ed Leone's family was going to win.
---