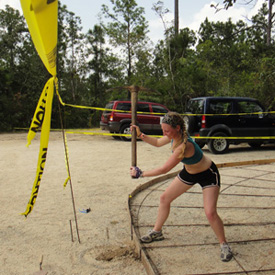 10/28/2014

Visitors from SUNY Cortland's zoo partner in Central America will explain the importance of their work and discuss student internship opportunities at the Belize Zoo during a campus presentation Tuesday, Oct. 28.
Jamal Andrewin, environmental educator at the Belize Zoo, and Tony Garel, the facility's head zookeeper, will speak at 7 p.m. in Brockway Hall, Jacobus Lounge. Their talk is free and open to the public.
The College shares a unique partnership with the zoo and maintains a positive presence throughout Belize by bringing students and faculty members from several different academic disciplines to the popular tourist destination, an English-speaking country located on the northeast coast of Central America and bordered by Mexico to the north and Guatemala to the south and west.
This past summer, after two years of fundraising, design and on-the-ground work, the zoo became fully accessible thanks to efforts of the College's Recreation, Parks and Leisure Studies Department. Students and faculty members raised roughly $10,000 over several years to create accessible pathways as part of the Belize Zoo Transformation Project. They also adapted restrooms outside the zoo's entrance, dug holes to plant landscaping and visual barrier poles, and marked driving slots for the vehicles of visitors with restricted mobility.
In addition to opportunities at the zoo, SUNY Cortland's International Programs Office has helped students arrange internships in Belize over the past 20 years in fields that include human services, business, recreation, health, environmental preservation, archaeology, special education and wildlife preservation.
Additionally, art and art history students have studied the country's traditional styles of pottery making and ceramic artifacts; a marine biology class has explored the world's largest still-living barrier reef in the Caribbean Sea; and future teachers have spent time with educators there sharing ideas and observing cultural differences as part of the summer Teachers Institute in Belize.
For more information on the talk, contact Thomas Pasquarello, a SUNY Cortland professor of political science and one of the College's main contacts with programs in Belize.
---