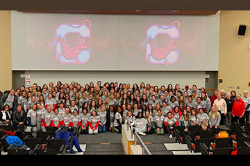 05/17/2022

More than 150 SUNY Cortland female athletes attended the Athletics Department's Alden '77/May '77 Athletic Leadership Speaker Series event on Thursday, April 28, at the Sperry Center celebrating the 50th anniversary of Title IX.

This June marks the 50th anniversary of the passage of Title IX, part of the Education Amendments of 1972, which states that "no person in the United States shall, on the basis of sex, be excluded from participation in, be denied the benefits of, or be subjected to discrimination under any education program or activity receiving Federal financial assistance."

The event featured presentations by the sponsors of the speaker series, Bonnie May '77, the recently retired associate athletic director and long-time women's volleyball and softball head coach at Smith College, and Betsy Alden '77, the former director of athletics at the College of Notre Dame, Webster University, San Francisco State University, and Ithaca College, and former President of the National Association of Collegiate Women Athletics Administrators.

Five Cortland women's head coaches - Heidi Axtell (soccer), Jacey Brooks (basketball), Erin Glickert (volleyball), Molly O'Donnell (softball) and Sulekha Modi Zaug '00, M '02 (gymnastics) - participated in a panel discussion following the presentations.

May was one of five Cortland C-Club Hall of Famers and C-Club Board of Directors members participating in the event, along with: Nancy Langham '59 (retired faculty member and coach at Cortland and the University of Rhode Island); Lin Case '77 (retired SUNY Brockport director of athletics); Sandy Morley '77 (retired principal, Bethlehem Middle School); and Toni Tiburzi (SUNY Cortland associate provost emerita, enrollment management, and former Cortland head coach).
---