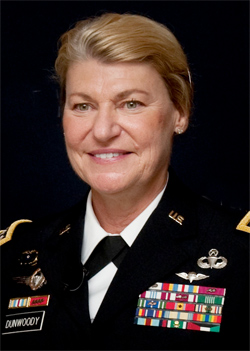 12/13/2010

Former SUNY Cortland student-athlete and 1975 alumna Gen. Ann E. Dunwoody received the 2011 Theodore Roosevelt award, the NCAA's highest honor. The award, also known as the "Teddy Award," on Jan. 14 during the annual NCAA Convention in San Antonio, Texas.
Named after President Theodore Roosevelt, whose concern for the conduct of intercollegiate athletics led to the formation of the NCAA in 1906, the award was established in 1967 and is given annually to an individual "for whom competitive athletics in college and attention to physical well-being thereafter have been important factors in a distinguished career of national significance and achievement."
Dunwoody joined a prestigious list of "Teddy Award" winners that includes former U.S. Presidents Dwight Eisenhower, Gerald Ford, George H.W. Bush and Ronald Reagan. Other past winners include John Glenn, Bob Dole, John Wooden, Arnold Palmer, Bill Cosby, Sally Ride, Madeleine Albright and Jesse Owens.
Dunwoody is the first woman in U.S. military history to be promoted to the rank of four-star general and is the current Commanding General, U.S. Army Materiel Command. She graduated from SUNY Cortland with a degree in physical education and was directly commissioned into the Women's Army Corps. She received a Master of Science in Logistics Management from the Florida Institute of Technology in 1988 and a Master of Science in National Resource Strategy from the Industrial College of the Armed Forces in 1995.
Dunwoody, a former gymnast and women's tennis player at Cortland, is the first woman in U.S. military history to be promoted to the rank of four-star general.
Nominated by recently retired SUNY Cortland Director of Athletics Dr. Joan Sitterly, Dunwoody was a starter and four-year participant on the College's women's gymnastics team under Coach Antoinette "Toni" Tiburzi and women's tennis team under Coach Sylvia Stokes.
"They were just great role models, great people," Dunwoody recalled about Tiburzi and Stokes. "They're 'people' people. They just made sports fun. I will always fondly remember Cortland because it was a positive experience for me. I have been blessed to have lots of positive experiences. The encouragement I got from the faculty there, the friends that I made there, made my whole college experience a positive one."
When Dunwoody began her military career, women had yet to be admitted to West Point. Her brother, father, grandfather and great-grandfather all attended the U.S. Military Academy, a family history that stretches to 1866. Dunwoody's father, a career Army officer, was a veteran of World War II and Korea and served in Vietnam during her college career.
In 1992 Dunwoody became the first woman to command a battalion in the 82nd Airborne Division. She was the first female general at Fort Bragg, N.C., and the first woman to lead the Combined Arms Support Command at Fort Lee, Va.
Dunwoody was deployed to Saudi Arabia for Operation Desert Storm as a division parachute officer for the 407th Supply and Transportation Battalion, 82nd Airborne Division. She served as the 1st Corps Support Command Commander in the deployment of the Logistics Task Force in support of Operation Enduring Freedom.
Dunwoody was promoted to the rank of four-star general in a ceremony at the Pentagon in 2008. Marking the occasion, U.S. Secretary of Defense Robert Gates said, "History will no doubt take note of her achievement in breaking through this final brass ceiling to pin on a fourth star, but she would rather be known and remembered, first and foremost, as a U.S. Army Soldier."
In a briefing to the press after the ceremony Dunwoody remarked, "I never grew up in an environment where I even heard of the words 'glass ceiling.' You could always be anything you wanted to be if you worked hard, and so I never felt constrained. I never felt like there were limitations on what I could do."
Dunwoody remains a proponent of an active lifestyle and enjoys running with her husband, retired Air Force Col. Craig Brotchie, and their springer spaniel, Barney.
---