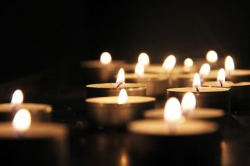 09/08/2021

The 20-year anniversary of the deadliest terrorist attack on American soil will be recognized by members of the SUNY Cortland community on Saturday, Sept. 11.
SUNY Cortland is supporting the City of Cortland's 9/11 Remembrance Ceremony, which will be held at 8:30 a.m. at the 9/11 Memorial at Courthouse Park. SUNY Cortland's Emergency Medical Services will participate in this event although spectators will be limited in the downtown Cortland park because of the COVID-19 pandemic.
Students, faculty and staff who wish to gather in person can do so in the Corey Union Function Room to watch a live stream of the event, which will be provided by The Cortland Voice.
After the local ceremony concludes, a live stream of other memorial ceremonies taking place in New York City, Washington D.C. and Shanksville, Pa. will be shown.
SUNY Cortland will also honor their seven alumni who were lost on that tragic day 20 years ago:
Please join us in remembering these alumni and their families and loved ones.
The SUNY Cortland Alumni Association's social media accounts will post biographies of the alumni who died on that tragic day each hour, on the hour, starting at 9 a.m. Follow on Twitter, Facebook and Instagram to learn more. The biographies also will be posted on the association's Red Dragon Network.
The Lynne Parks '68 SUNY Cortland Alumni House will pay tribute by keeping a candle lit throughout the day in honor of those who died.
---