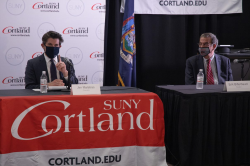 10/20/2020

State University of New York Chancellor Jim Malatras and SUNY Cortland President Erik J. Bitterbaum today announced a two-week extension to Cortland's pause on all in-person classes and activities in order to stabilize COVID cases among students. SUNY Cortland's study-in-place restrictions are now set to lift on Nov. 3 if state and local health officials feel the outbreak is under control.

The campus is not closing and students are not being sent home. In fact, during this period, state Health Department regulations are requiring the university to do all they can to keep students in Cortland and work to contain and reverse the virus' spread.
Recent pool test results show the number of new and active COVID cases at SUNY Cortland is declining. During the peak of the outbreak in October, more than 6% of our community's COVID tests were positive. In recent days, that has gone down to less than 2%.

But the number of infections is still too high to resume normal activity, Chancellor Malatras said. During the current, state-set review period, SUNY Cortland has had 180 new cases. The New York State Department of Health mandates that all SUNY campuses must shift to remote education if testing finds 100 new cases during a two-week period. Cortland first hit that threshold on Oct. 5 and entered the study-in-place period that was extended today.

"SUNY Cortland's number of COVID-positive cases has not stabilized, necessitating the need to continue the college's pause," Malatras said. "We are partnering with everyone in our power to aggressively boost testing, tracing and enforcement efforts in hopes of getting this virus under control. I thank Governor Cuomo for providing additional assistance to help with contact tracing and SUNY Upstate Medical University for providing their mobile testing van.

"I share the anger and frustration felt by students who are doing the right thing, yet must still have their semester disrupted. This is a challenging time that requires uncompromising vigilance and uniform commitment from each and every person on campus—and that's what we need to see at SUNY Cortland over the next two weeks."
Restrictions on in-person classes, on-campus activities and restrictions on the size and nature of social gatherings will continue for two more weeks, during which time we hope to see the number of new and active cases continue to drop.

"The health and safety of our community remains SUNY Cortland's top priority, and the current approach is working," President Bitterbaum said. "In recent days we have begun to see a slight decline in new and active cases. We just need to keep it up for another 14 days. With an extension of study-in-place and the continued diligence of our students, faculty, staff, state and local health officials, and the SUNY system, we will be able to contain the spread of the virus."

Increased enforcement, testing

SUNY Cortland continues to strictly enforce violations of SUNY's uniform emergency safety directive, which requires severe mandatory penalties for students who intentionally or repeatedly violate rules related to COVID. To date, 55 students have been suspended or restricted from campus for COVID violations this semester, more than during the last four years combined. Today, Chancellor Malatras directed University Police to continue working closely with local law enforcement agencies to increase safety enforcement efforts in off-campus student neighborhoods.

To date, SUNY Cortland has performed more than 7,000 COVID tests, through a partnership with SUNY Upstate Medical University in Syracuse. The institution's FDA-approved saliva test allows SUNY to process up to 120,000 tests per week. At Malatra's urging, it has deployed its mobile testing van to Cortland to increase pooled surveillance testing over the next two weeks. The State Department of Health will also deploy 25 additional case investigators who will work with the Cortland County Health Department. The Department of Health currently has 225 contact tracers working in the Central New York/Southern Tier region.

Local COVID impact

Prior to today's press conference, Chancellor Malatras met with President Bitterbaum and members of his leadership team, Cortland Mayor Brian Tobin, and representatives from the Cortland County Health Department, UUP, CSEA, Faculty Senate, Student Government, University Police, and local law enforcement to discuss mitigation, testing, tracing, and enforcement plans for the next two weeks.

"COVID-19 has presented its challenges for faculty throughout the system, having to adapt to distance learning," said SUNY Cortland Faculty Senate Chair Genevieve Birren. "We understand the need to extend the pause for in-person learning to stabilize cases and better ensure that we keep faculty and students safe. And we appreciate the attention and resources from Chancellor Malatras and President Bitterbaum."

Student Government Association President Callie Humphrey agreed. "The COVID-19 pandemic has highlighted how important it is to work together during times of uncertainty and in response to this health crisis. The acts of a few can impact the wellbeing of many, so while the majority of SUNY Cortland students have shown their dedication to the safety protocols set forth by SUNY System, it is crucial that we have everyone's compliance, which I know we can do, in order to move forward as a campus."

Cortland Mayor Brian Tobin said, "The decision to extend the pause on in-person classes at SUNY Cortland is fully supported by our office, and we commend Chancellor Malatras for ensuring that the safety of the campus community and its residents remains a priority. We are all part of the same community and we will continue to work together with President Bitterbaum to protect everyone and contain this virus. My office has increased enforcement and is ready to help in any way possible."

More specific data on SUNY Cortland COVID testing — including three-, seven-, and 14-day rolling positivity rates — is accessible online through SUNY's COVID-19 Case Tracker.

On October 5, with 101 COVID-19 cases in the prior two-week window, Chancellor Malatras and President Bitterbaum announced the initial, two-week pause on in-person classes and activities. Athletics and Greek Life were preemptively suspended indefinitely on September 13, and have remained suspended.

Expanded mental health services

Recognizing the mental and emotional toll of the pandemic and the impact of increased social isolation throughout these pause periods, SUNY will extend tele-counseling services to all Cortland students through SUNY Upstate Medical — one of SUNY's two tele-counseling hubs. Cortland students will be able to schedule tele-counseling appointments with health professionals at Upstate Medical. SUNY Student Advocate John Graham is also arranging a series of listening sessions for Cortland students who feel frustrated, isolated and lonely.

Students can also utilize SUNY's peer-to-peer assistance hotline. Operated through the University at Albany's Middle Earth Program, the hotline was recently made accessible to all SUNY students as part of a sweeping expansion to mental health and wellness services for students across the SUNY system. The hotline number is 518-442-5777. It is open 1 p.m. through midnight Monday through Thursday, and operates 24/7 over the weekend, beginning on Fridays at 1 p.m. and closing on Sundays at 11:59 p.m. during the fall and spring semesters.
---