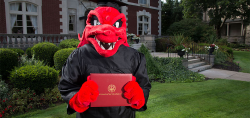 05/04/2021

Next week, hundreds of graduating seniors will participate in a Grad Walk at Lusk Field House as part of a four-day celebration that culminates in a virtual Commencement ceremony at 10 a.m. on Saturday, May 15.
"Your dedication during the past year of unprecedented adversity deserves to be recognized," President Erik J. Bitterbaum told students in an email message last week. "You have all sacrificed for your achievements and persevered despite a pandemic environment that made many typical college experiences impossible. This is especially true for our Class of 2021."
Nearly 770 qualifying seniors registered for the Grad Walk, which will be stretched across two days, Wednesday, May 12 and Thursday, May 13. Students signed up for particular time slots when they registered. Details include:
Students who participate must wear a face covering and follow physical distancing rules during the event.
Students must provide their COVID-19 status prior to the event in one of three ways: attend pool testing at the Student Life Center on May 10; upload proof of a negative test through the COVID tab in myRedDragon within 72 hours of your scheduled walk time; or upload proof of a positive COVID-19 test through the COVID tab dated 10 to 90 days from the time of your walk.
Spectators are not allowed to attend the event. Instead, the walk will be livestreamed and a professional photographer will be present at the event. More information on how you can purchase photos is available online.
Students may purchase their cap and gown through The Campus Store. Those who opt not to wear a cap and gown are asked to dress professionally.
The Commencement webpage includes more details about ways to mark the occasion.
A three-day online celebration will run May 12 to 14, featuring video presentations, interactive celebration activities and a listing of this year's applicants for degrees. For more information on activities planned for the celebration, go to our Commencement Get Involved page.
---