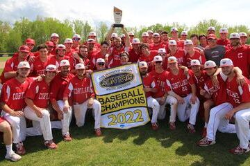 05/17/2022

SUNY Cortland's baseball team will host a four-team, double-elimination NCAA Division III regional at Wallace Field on campus starting on Friday, May 20.
The Red Dragons, SUNYAC tournament champions with a record of 33-10, have played in 29 consecutive national tournaments, a Division III record.
Cortland will play Bridgewater State in the opening game of the regional at 10 a.m. on Friday. Endicott and St. John Fisher meet in the second game on Friday at 1:30 p.m. Games continue at 8:30 a.m., noon and 3:30 p.m. on Saturday and at 11 a.m. on Sunday. A final elimination game will be played Sunday afternoon, if necessary.
The winner of the Cortland regional will play the winner of a SUNY Brockport-hosted regional in a best-of-three super regional round on May 27 and 28. The Division III World Series will be held June 3 to 8 in Cedar Rapids, Iowa.
Senior infielder Danny Coleman hit a home run and drove in four runs to lead Cortland to a 12-9 victory over Brockport in the SUNYAC championship game on May 14. Coleman, who was named tournament MVP, was joined by Mat Bruno, Andrew Michalski and Scott Giordano on the all-tournament team.
Women's lacrosse
SUNY Cortland's women's lacrosse team has advanced to the third round of the NCAA Division III tournament and will play The College of New Jersey in Ewing, N.J. at 11:30 a.m. on Saturday, May 21.
Cortland defeated Western Connecticut State, 18-8, and Roger Williams, 14-11, in the first two rounds of the tournament at home on May 14 and 15, respectively.
Graduate student Hannah Lorenzen scored five goals and had two assists in the victory over Roger Williams.
Cortland, 17-4, has won 16 consecutive games and was ranked No. 16 in the nation in the May 9 poll by the Intercollegiate Women's Lacrosse Coaches Association.
Men's lacrosse
The Red Dragons' season ended with a 15-14 loss to St. Lawrence in the second round of the NCAA Division III tournament on May 14. Dante Yacavone and Tyler Starrett scored three goals apiece for Cortland.
Cortland had defeated Geneseo 7-6 in the SUNYAC championship game on May 7. Troy Morris and Austin Palmer scored two goals each in the win.
Women's golf
SUNY Cortland placed 24th at the Division III Championships held at Bay Oaks Country Club in Houston, Texas earlier this month.
Claudia Winterberg shot a three-over-par 75 on the third day of the tournament and finished tied for 55th among individuals.
Cortland won the Northeast Women's Golf Conference Championship in April, the team's fifth consecutive league title. Paige Cerminaro won the tournament with a two-day score of 157.
Track and field
Danielle Fisk and Brett Morse set facility records in the high jump and the 110-meter hurdles, respectively, at the Nazareth College ROC City Qualifier meet on May 15.
The Red Dragons will send competitors to the AARTFC Championships this Wednesday and Thursday at Moravian College.
Softball
Cortland's softball team finished second at the SUNYAC softball tournament, losing to Geneseo, 7-0, in its final game. The Red Dragons finished the season with a 26-15 record.
Alyssa Finno, Karlee Weeden and Gina Meyers were named to the SUNYAC All-Tournament team.
Women's tennis
Cortland's season ended with a 5-0 loss to top-seeded New Paltz in the SUNYAC semifinals on April 29. Abby Madigan won her first set at second singles, 6-1 and was trailing 1-0 in the second set when the team competition ended.
For more information on SUNY Cortland athletics, including live stats, video, stories and more, visit CortlandRedDragons.com.
---