News Detail
02/03/2023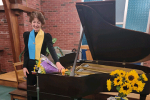 A SUNY Cortland performing arts lecturer and her former protégé will hold a piano recital to raise funds to help Ukrainian refugees and celebrate the 250th birthday of Ludwig van Beethoven.
"An Evening of Beethoven," by Ukraine-born Marina Gorelaya of the university's Performing Arts Department and Jake Hutton '22 of Tully, N.Y., will be Thursday, Feb. 9 in Cortland. The performance will begin at 7 p.m. at the Interfaith Center at 7 Calvert St., which is located at the corner with Prospect Terrace.
Admission to the recital is free, but the audience will have an opportunity to give a monetary donation for support of a refugee family newly arrived Feb. 1 from Lviv, Ukraine. The family consists of 33-year-old mother Mariana Kosarieva, her two young daughters and their grandmother.
Any funds raised will be accepted by the Interfaith Center and sent to Cortland United for Ukraine. Please make checks payable to Cortland County Council of Churches.
The family will settle in Cortland for an anticipated two years while Kosarieva's husband continues to help fend off Russia in that country's attempts to take over Ukraine's sovereign territory. The bombing in Lviv has destroyed heat and electricity infrastructure. Cortland town justice Mary Beth Mathey led a committee to house and assist the family. Kosarieva plans to find work while her mother cares for the children in their dwelling at Pomeroy Street Apartments.
For Gorelaya, the family's plight hits close to home.
"Yes, I am Ukrainian, I lived in that country for 36 years," Gorelaya said. "I still have my family and friends over there. I am happy to do anything that can be helpful for my native country."
Gorelaya's last recital in April 2022 raised funds for Ukraine and Poland, the neighboring European country that opened its borders to shelter millions of Ukrainian refugees. Organized through the American Red Cross, that drive raised $1,500 for the relief efforts.
According to Gorelaya, "An Evening of Beethoven" offers a belated opportunity to enjoy the music of the classical German composer. Public health measures during the height of the COVID-19 pandemic muted most public acknowledgment of the great composer's contributions during his actual anniversary year in 2020, including Gorelaya's planned solo performance.
"It is time that we celebrate Beethoven's anniversary and the contribution of his music to the world," Gorelaya said.
Hutton, a political science major who graduated last spring, will also perform during the event. He's performed several times at the Grace and Holy Spirit Church in Cortland and currently is practicing as he aspires to enroll in a school for music.
"He came to my class in February of 2021 and quickly realized that piano is his passion," Gorelaya said. "In two years only, he is grown to the level of concert pianist. I decided it's time now to show his fantastic ability and accomplishment to the people."
For more information, contact Gorelaya at 607-753-2811.
---