News Detail
11/14/2013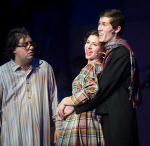 SUNY Cortland's Performing Arts Department will ring in the holiday season with five sumptuous and vibrant performances of Charles Dickens' "A Christmas Carol – The Musical."
Offered for the first time as a musical at the College as well as in Cortland County, "A Christmas Carol – The Musical" will open on the Old Main Brown Auditorium stage at 7 p.m. on Friday, Nov. 22, Saturday, Nov. 23 and Sunday, Nov. 24. Matinees will be at 2 p.m. on Saturday, Nov. 23, and Sunday, Nov. 24.
Like the play which has been a perennial local favorite, "A Christmas Carol – The Musical" is adapted from Dickens' 1843 novella recounting the classic story about mean-spirited Ebenezer Scrooge and his transformation on Christmas Eve as he is visited by the ghost of his old business partner and the Christmas spirits.
"Each of Dickens' iconic characters is brought to life with music, dancing and spectacle," said Director Kevin T. Halpin, an associate professor in the Performing Arts Department. "It's not a typical stage production or reading by any means."
The cast consists of musical theatre majors from the College's Musical Theatre program, as well as some gifted performers from the Cortland community, including children ranging in age from 5 to 15 years old playing some of the most cherished roles.
This version of the holiday favorite tale comes to Cortland from the Broadway powerhouse team of Alan Menken and Lynn Ahrens. "A Christmas Carol – The Musical" opened on Broadway in 1994 and ran for nine years.
"Composer Menken brought us "Beauty and the Beast," "Little Mermaid," "Little Shop of Horrors," "Sister Act" and "Pocahontas," just to name a few," Halpin noted. "Lyricist Ahrens' Broadway credits include such classics as "Ragtime," "Once on This Island," "Seussical," "School House Rock" and even "Rocky - The Musical. Quite a team, indeed."
The upcoming production's cast has been selected as follows:
Community actor Seamus Gailor portrays the beloved role of Tiny Tim, shown ringed by his companions, in "A Christmas Carol - The Musical" Nov. 22-24 at SUNY Cortland.
Joseph Gugliemelli as Ebenezer Scrooge; Paul Warren Smith as Bob Cratchit; Emily Freeman as Mrs. Cratchit; Seamus Gailor as Tiny Tim; Alejandro Circelli as Jacob Marley; Nicholas Alteri as Mr. Smythe and Young Marley; Jenniellen Withers as Grace Smythe; William Rivera as Fred Anderson; David Newman as Mr. Fezziwig; Jacqueline Fisher as Mrs. Fezziwig; Andrew Cuccaro as Young Ebenezer; George Wilkins as Jonathan and Ebenezer at 12; Drew Thomas as Ebenezer at 8; Catherine Skojec as Emily; Camille Pearlman as Fanny; Christina Jackson as Christmas Past; Allison Tamburello as Christmas Present; Lindsey Galgano as Christmas Future; and Melissa Pipher as Sally Anderson.
The ensemble cast includes William Swenson, Benjamin Shimkus, Sean Noonan, Catie Young, Sarah Shaiman, Jaclyn Collins, Hailey Berkowitz, Christina Hammerer, Amber Johnson, Lauren Puente, and Kevin Rayo.
The children's ensemble includes Bailey Kote, Madison Kote, Drew Thomas, Owen Thomas, Ana Videto, Gabriella Williams and Jenniellen Withers.
All the cast are SUNY Cortland students except for the children's ensemble and the actors in the roles of Tiny Tim and Young Jonathan.
Assisting in bringing this beloved show to life will be the College's design team with Howard Lindh on sets and props and Joel Rand Pape overseeing lighting and sound design. Technical Director Preston Marye and a support team of students from across the College will pull the production together.
"Dickens' heartwarming and uplifting tale of Ebenezer Scrooge and his redemption provides a perfect framework for the lush melodies and high spirits of this big, brassy and exuberant musical," Halpin said. "This really is a show for the whole family and a great way to welcome in the holiday season."
The Performing Arts Department is proud to have Country Inn & Suites as its season sponsor.
Tickets may be purchased ahead of time at The Bling Store, 101 Main St., Cortland, or at the theater box office one hour before each performance. The box office is temporarily located adjacent to Brown Auditorium in the Dorothea "Dottie" Kreig Allen Fowler '52, M '74 Old Main Grand Entrance Hall. Tickets are $18 for general admission, $15 for senior citizens, faculty and staff, and $8 for students and children.
For more information, visit the Performing Arts Department website at cortland.edu/performingarts or call 607-753-2811.
---