Our Champions
Lauren Reed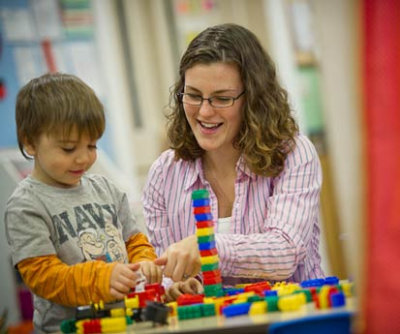 "I want to work with kids the rest of my life. After I graduate from Cortland, I plan to get a master's degree in special education. Then I'd like to work in a preschool or elementary classroom."
After visiting the campus four times during high school, Lauren, a junior from Owego, N.Y., had her heart set on attending SUNY Cortland.
"I was going to apply only to Cortland. There wasn't anywhere else I wanted to go. Several of my high school teachers got their master's degrees here. I love the size of the campus and how easy it is to get around."
An early childhood and childhood education major, Lauren chose the environmental studies concentration because of her love of science and for its hands-on features. In addition to her education courses, she's taken oceanography, geography and earth science courses.
"I love my practicum. Right now, I spend eight hours a week at a day-care center. I value the classroom experience. I've already had over 100 hours in the field, and I will have another 100 hours before I student teach."
Cortland has offered Lauren interesting and fulfilling extracurricular activities, too. She's helped organize the annual Crop Walk. Her involvement with the Interfaith Center on campus has taken her to Spring Break service projects out of state. She and other students are working with the Student Government Association to form an official interfaith student club.
"Being a part of the Interfaith Center has helped me find people to become friends with. We sponsor the Cortaca Mug event, an alcohol-free party held the night before Cortaca Jug — the annual Cortland-Ithaca College football game. It was packed this year."
Lauren's semesters have been full academically and socially. With the help of a scholarship her freshman year and the federal Teacher Education Assistance for College and Higher Education (TEACH) grant for the past two years, she's on track to finish her degree in four years. After graduate school, Lauren hopes to teach, travel and work with kids the rest of her life.