Our Champions
Amber Earl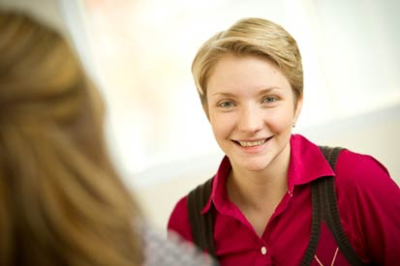 "I want to make the greatest impact possible on improving everyone's health — and I love teaching!"
"I'm a certified K-12 health teacher, but I wanted a broader view," Amber Earl says about choosing SUNY Cortland to pursue a master's degree in community health.
After undergraduate internships in community health and a year in AmeriCorps, Amber felt called to work with adults, with disadvantaged populations in communities, where the impact is just as great as in schools. Cortland's community health program provides a perfect fit.
In addition to an AmeriCorps scholarship, Amber received a graduate assistantship, which helps with the costs. Studying and working at Cortland has offered Amber a different educational experience with new professors, new students and new not-for-profit agencies. One of her activities involves working with focus groups consisting of parents and teachers in area schools.
"Cortland opened new doors to career possibilities. Professors created opportunities to conduct research, write papers and collaborate. They recognized my teaching strengths and even suggested that I pursue a doctoral degree. I get to practice what I learn every single day."