Our Champions
Marie Suarez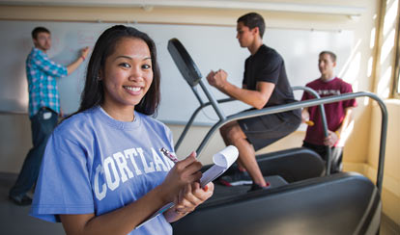 "I'm a great example of everything that Cortland has to offer. College doesn't have to be about one major or one thing. It's about experiencing a little bit of everything"
Walk a day in Marie's shoes to see SUNY Cortland's multidisciplinary approach to education. "When I came to Cortland, the goal was physical therapy school," says Marie, who saw herself as an athletic trainer. "That's still a possibility, but I've also discovered there are many other things that excite me, and I feel prepared for all of them."
She's proven capable of studying anatomy by day while embracing student groups outside of her discipline by night. Marie settles into a spot in Corey Union on Tuesday evenings, where she supports her classmates at open mic performances. She's also a regular at Voice Office meetings, where students from diverse backgrounds discuss social topics that might not come up in their classes.
"It's a good opportunity to talk about things that we don't normally talk about," says Marie, who counts membership in the College's Sigma Lambda Upsilon Latina-oriented sorority as one of her favorite activities.
The excitement she pulls from interacting with others led her to seek internships that would add to her academic skill set. She flourished at New York Jets Summer Training Camp, leading activities and helping with events for the team that recognizes the College as its official university partner. Marie also discovered what she calls her second home in the College's Admissions Office, where she spends many hours each week using her own experiences to guide prospective students.
"I'm a great example of everything that Cortland has to offer," Marie says. "College doesn't have to be about one major or one thing. It's about experiencing a little bit of everything."