Our Champions
Brittany DeBlasio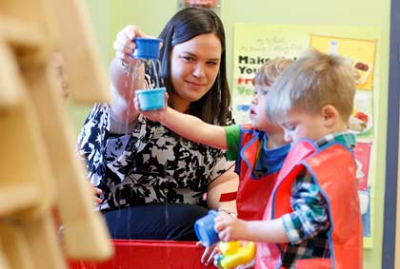 "The professors of the Teaching Students with Disabilities (TSD) graduate program have inspired me to never give up. They understand that the job market and economy out there are rough but that I am beyond capable and ready for anything that gets thrown my way."
Due to a tight job market, Brittany made the decision to go to graduate school full time after earning her undergraduate degree.
"After looking into schools at home and comparing them to Cortland, Cortland was the better choice. I knew some of the professors, the school, and most of all, it was more affordable and a better fit for me."
She chose the teaching students with disabilities graduate program when she realized that her passion was to work with children who faced challenges.
"I was able to meet with the head of the program over the summer to plan out my time at Cortland. I told her that I wanted to do it as quickly as possible. We were able to plan out completion of the program in a year and a half. I like that the professors and advisors are very knowledgeable about the program and can help whenever needed."
As soon as Brittany knew she would be returning to Cortland for graduate school, she applied for a job at the SUNY Cortland Child Care Center. After substitute teaching for a month, she was offered a full-time position as an assistant teacher in a preschool and toddler room. By successfully balancing her job and schoolwork, Brittany says she has managed to maintain her high GPA.
Brittany feels SUNY Cortland offers a great environment to be a graduate student. The professors focus on real-life applications. They want the students to experience education in the classrooms and bring those experiences back to share with their classmates. The courses are challenging and the professors are willing to help whenever possible.