#paginate
Jacqueline Augustine
Jacqueline Augustine, Kinesiology Department, was an invited speaker at the Mid-Atlantic Regional American College of Sports Medicine Conference on Nov. 1 in Harrisburg, Pa. Her presentation was titled "Cardiovascular Adaptations in Female Marathoners."
Lindsey Darvin
Lindsey Darvin, Sport Management Department, recently was featured in an SB Nation article about the NCAA NIL changes and the impact those may have for NCAA women student-athletes.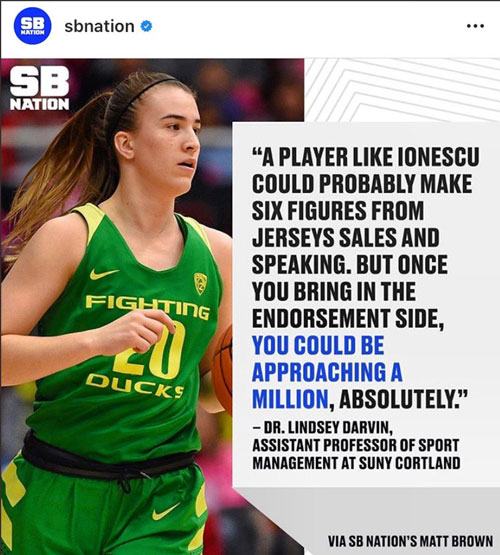 Jeremiah Donovan
Jeremiah Donovan, Art and Art History Department, presented a paper titled "Revitalization of Maya Pottery Practices in San Antonio, Belize" at the Strategic Alliances for the Internationalization of Higher Education, Cuba TIES Conference. The conference, held Oct. 20 to 26, was sponsored by the University of Cienfuegos, Cuba.
Bonni C. Hodges
Bonni C. Hodges, Health Department, represented the Society for Public Health Education at the "Developing Health Literacy Skills in Youth" workshop convened by the National Academies of Sciences, Engineering, and Medicine in November in Washington, D.C. In October, Hodges' American School Health Association (ASHA) Committee on Research Translation facilitated a pre-conference workshop for school health practitioners as part of ASHA's annual meeting.
Nancy Kane
Nancy Kane, Kinesiology Department, has had her first edition of History and Philosophy of P. E. and Sport published by Cognella Publishers.
Kathleen A. Lawrence
Kathleen A. Lawrence, Communication and Media Studies Department, recently received word that her poem, "The Nonpareils: As Told by the Woman in the Gingerbread House," has been nominated for a prestigious Pushcart Prize. Wikipedia describes the Pushcart Prize as "an American literary prize published by Pushcart Press that honors the best 'poetry, short fiction, essays or literary whatnot' published in the small presses over the previous year." Lawrence's poem originally was published in Star*Line, the print magazine for the Science Fiction and Fantasy Poetry Association. "The Nonpareils" is a retelling of the well-known German fairytale by the Brothers Grimm titled Hansel and Gretel from the perspective of the witch, or homeowner. This is the second Pushcart Prize nomination she has received.
Rhiannon Maton
Rhiannon Maton, Foundations and Social Advocacy Department, co-presented with students Breeanna Dexter, Nicolette McKeon, Breanna Washington and Emily Urias-Velasquez at the National Council of Teachers of English annual conference. The presentation was titled, "Picture Books and Familial Incarceration: Representations of Visitation."
Danica Savonick
Danica Savonick, English Department, had her article, "What Can Our Writing Do in the World? The Feminist Praxis of Publishing Student Writing," published in November in Radical Teacher. This article situates the practice of publishing student writing within a longer history of feminist teaching methods. It also features the original writing of two SUNY Cortland students, seniors Lacey Bartlett and Taylor Price.
Tadayuki Suzuki
Tadayuki Suzuki, Literacy Department, presented with Darryn Diuguid of McKendree University at the 2019 National Council of Teachers of English on Nov. 22 in Baltimore, Maryland. The presentation, "Intersectional Identities in LGBT Trade Books: Exploring the Current Trend in Rainbow Book List Winners," was part of the roundtable sessions titled "LGBTQ + Spirited Inquiry: Visibility in ELA."
Tiantian Zheng
Tiantian Zheng, Sociology/Anthropology Department, is the author of "The Politics of Fashion, Class Hierarchy and Transgression: Rural Migrant Women in Karaoke Bars and Japan-Korea Wave," posted online in October on The Contemporary China Centre.
#paginate