News Detail
11/05/2013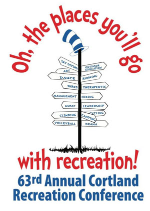 Lawrence Allen, who has studied how community tourism and recreation services impact the social, cultural and economic well-being of communities, will deliver the prestigious Metcalf Endowment Lecture at this year's 63rd annual SUNY Cortland Recreation Conference Thursday, Nov. 7, and Friday, Nov. 8, at the College.
Allen, dean of the College of Health, Education and Human Development at Clemson University, will discuss "Oh, the Places You'll Go! All the Things You Can Be!" at 1 p.m. on Friday, Nov. 8, in Corey Union Function Room. The keynote lecture is free and open to the public.
Lawrence Allen
"Taking off from the Dr. Seuss poem, I will explore the endless career possibilities you have at your doorstep and the growth you have and will need to have to take advantage of these opportunities," Allen said. "I will trace my own career development and the places I have seen and the things I have been able to do as a result of my academic degrees in parks and recreation."
"Oh, the Places You'll Go with Recreation!" is the theme of the two-day gathering, the nation's oldest continuous collegiate-sponsored recreation education conference.
Presented by the College's Recreation, Parks and Leisure Studies Department and students in its Special Events Planning class, the conference receives additional support for its Metcalf Keynote Address from the Metcalf Endowment Fund and the Campus Artist and Lecture Series.
"This year's theme will not only embrace the playful spirit of the recreation field but also the many career paths it offers including recreation management, outdoor recreation, therapeutic recreation, commercial recreation, tourism, special events planning, and much more," said conference coordinator and student Greggory Houck.
The conference fee is $125 for professionals and $60 for SUNY Cortland and other students to attend both days; and $90 for professionals to attend Thursday or Friday only. The additional cost to receive Continuing Education Unit (CEU) credits is $8. The registration fee includes meals.
Walk-in registration takes place at 7 a.m. on both Thursday and Friday in Corey Union. Additional information may be obtained by calling 607-753-4939, by emailing recconf@cortland.edu or online at cortland.edu/recconf, where the brochure and registration form may be viewed or printed.
More than 250 students and professionals are expected to attend the conference, which will offer approximately 50 educational sessions and practical workshops on recreation management, therapeutic recreation, outdoor recreation, environmental education, and leisure and society. A research symposium, internship fair and networking social also are planned.
Session topics will include empowering children with severe food allergy in the camp setting, therapeutic horsemanship, working with youth who've experienced trauma, horticultural therapy, creating healthy places in Cortland County, reptiles in education, diversity and inclusion in recreation, international internship opportunities for recreation majors, whitewater rafting in New York state, Alzheimer's and dementia programming, teambuilding to create a better environment, and developing community partnerships and implementing a marketing and public health campaign to help end chronic and preventable diseases. A special session will feature three SUNY Cortland alumni sharing their thoughts on the legacy of department founder Harlan "Gold" Metcalf on SUNY Cortland's recreation curriculum and the national recreation movement.
The conference is planned and directed by SUNY Cortland students enrolled in the Special Events Planning class taught by conference advisor Leiko Benson, an adjunct professor in the recreation, parks and leisure studies.
In addition to the conference coordinator Houck, from Candor, N.Y., the students and the committees they chair include:
• Paige Cahill of Hopewell Junction, N.Y., registration coordinator and office manager;
• Nicholas Cobb of Lansing, N.Y., finance coordinator;
• Rachel Cohen of Fresh Meadows, N.Y., public relations and marketing coordinator;
• Magdalena Janczak of Brooklyn, N.Y., graphics and printing coordinator;
• Raoul Koopman of Bellmore, N.Y., program coordinator;
• Sarah Powers of Cortland, N.Y., alumni affairs and research symposium coordinator;
• Alexandra Ramirez of East Meadow, N.Y., hospitality coordinator;
• Brian Vonderlin of Bath, N.Y., special programs coordinator; and,
• Jessica Wyckoff of Holbrook, N.Y., evaluation and volunteer coordinator.
Cortland alumni presenting at this year's conference include Peggy Payne '64, John Silsby '69, M '70, Snapper Petta '76, Jon Cooley '75, Jeff Dickinson '85, M '96, John LaRue '89, Raul "Rocci" Aguirre '95, Christella Yonta '95, Art Servidone '00, Jessica Daily '01, Rhonda Jacobs '01, Charles Robillard '01, M '09, Pat Mercer '03, Mary Kate Boland '06, Rich Coyne '07, Jason Page '08, M '12 and Jennifer Miller '08, M '12 and Gonda Gebhardt M '13.
The keynote speaker has been involved with an ongoing effort to document the impacts of community tourism and recreation services in well over 150 communities during the past 15 years. This effort has provided valuable information in understanding tourism and recreation impacts, especially in rural areas and small communities.
Most recently, Allen was involved with the development of guidelines and management principles for nature-based tourism enterprises and the formation of a benefits-based leisure service delivery system.
Prior to joining Clemson University, he headed the Leisure Studies Department at University of Illinois. Before that, he chaired the Recreation and Leisure Studies Department at Temple University.
Allen served as president of the Academy of Leisure Sciences from 1994 to 1995, co-edited the Journal of Park and Recreation Administration, and was a member of the Board of Directors of the Society of Park and Recreation Educators.
Conference sponsors also include the National Alliance for Youth Sports, Electrical Training Company, Inc., Brandano Displays, Inc., Playground Medic, the SUNY Cortland Recreation Association, Tompkins Trust Company, Salt City Signs, and the New York State Recreation and Parks Society.
---