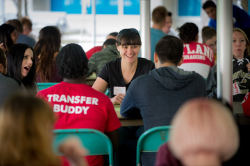 10/05/2017

With 897 new transfer students on campus this year, SUNY Cortland will show its dedication and appreciation for them as part of a week-long, national event.
This fall, SUNY Cortland is participating in the first National Transfer Student Week presented by The National Institute for the Study of Transfer Students (NISTS).
From Oct. 9 to Oct. 13, students, faculty and staff can engage in several activities to acknowledge the many campus contributions of the College's students who have joined Cortland, usually as juniors, after transferring significant college credits from a different institution.
"SUNY Cortland strives to offer a supportive and inclusive community to all new and returning transfer students," said Emily Quinlan, coordinator of Transfer Student Services. "Transfer Student Services provides several social and academic programs and events to assist new transfer students with their transition to the college and to continue to show support throughout their time on our campus."
"Take a Transfer to Lunch" gives faculty and staff a chance to treat these unique students to a meal and connect outside of the classroom. A $20 ASC food voucher will be provided. An online application is available.
Faculty and staff who themselves experienced beginning their undergraduate studies at a different university than the one where they earned their degree are encouraged to show their transfer pride by wearing an "I Was a Transfer Student" sticker. The decals are available through Transfer Student Support.
On Wednesday, Oct. 11, Residence Life and Housing hosts a Transfer Trivia Night beginning at 6 p.m. in the Corey Union Function Room. Students will have an opportunity to compete for prizes, get a bite to eat and have fun with others.
Greg Diller, the College's transfer mobility advisor, will hold a Transfer Buddy Appreciation gathering on Thursday, Oct. 12 from 2 to 4 p.m. in the Advisement and Transition Office in Memorial Library, Room A-111. SUNY Cortland Transfer Buddies are returning transfer students who volunteer to assist new ones as they adjust to life at the College.
Quinlan works hard to make sure these individuals feel welcome at SUNY Cortland.
"We want to acknowledge they're a large and important population on campus," she said.
Each year, SUNY Cortland welcomes approximately 900 transfer students with an average 3.0 incoming GPA. This fall, the top three institutions that sent aspiring baccalaureates to the College were Onondaga Community College, Tompkins Cortland Community College and Suffolk Community College.
Tau Sigma is the national honor society for transfer students who currently attend four-year institutions. The SUNY Cortland Chapter was established in 2004 and since then has grown to 999 members. Requirements to join Tau Sigma and more information about the chapter may be found online.
SUNY Cortland's Advisement and Transition provides support and services for transfer students. Previous events put on by Transfer Student Services include a Welcome Barbecue and Transfer Takeoff, a chance for transfers to mingle with each other and meet their Transfer Buddies. COR 201 is a one-credit course offered at SUNY Cortland for transfer students to learn more about the College and community.
For more information, contact Quinlan at 607-753-4726 or visit SUNY Cortland's Transfer Student Support page.
Prepared by Communications Office writing intern McKenzie Henry
---