News Detail
09/23/2013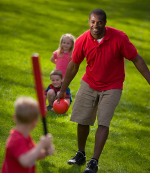 As the result of childhood obesity, some children can now expect to die at a younger age than their parents.
Donna Videto, a SUNY Cortland professor of health, will explain this shocking public health nightmare — and a possible solution — at a community roundtable on Thursday, Oct. 3, at SUNY Cortland.
The roundtable, titled "Healthy School Communities: Making Children a Priority," will take place from 8 to 9 a.m. in the Park Center Hall of Fame Room.
Sponsored by the College President's Office, the College's four annual roundtables are free and open to the public. Refreshments will be served at 7:45 a.m. During the roundtable, public parking is available in the Park Center and Professional Studies Building lots.
"The increase in childhood obesity is resulting in severe health problems such as asthma, Type II Diabetes, and cardiovascular disease for many children," Videto said. "These problems, beginning at an extremely young age, could result in the children of today's society living three to five years less than their parents."
She helped launch the Cortland City School District's "Growing Healthy" curriculum and has contributed to the health nutrition programs of several local schools.
In May, Videto was presented with a SUNY Chancellor's Award for Excellence in Faculty Service in part due to her key role in campus and
Donna Videto
community health issues, assessing school health programs, guest lecturing and involving her students in service learning opportunities.
At the roundtable, she plans to focus on Healthy School Communities, a national movement to integrate the school system and the community to work together and develop a way to change the way students view health.
"Sending the message to children about the importance of a happy and healthy lifestyle is not always seen as a priority in society," Videto said. "As a community, we can make a change and take a stand against these major health issues that can be prevented simply by living a fit and active life."
In her view, Healthy School Communities has a high potential for success, but only if varied sectors from the community become involved. She will discuss how new and creative ideas can be developed that will positively impact the lives of many children.
"By working as a team and helping expand the duration and quality of children's lives, imagine what amazing things they will be able to do with the extra, quality time they will have due to their incredible health," she said.
On a statewide level, Videto has served the New York State Education Department as a lead grant co-investigator for the School Health Systems Change Project and a reviewer for the New York State Health Central kindergarten through sixth grade health education curriculum.
Nationally, Videto has provided extensive leadership to the American Association for Health Educators for decades, serving on its board of directors and as associate editor of two professional journals, the American Journal of Heal Education and the International Electronic Journal of Health Education.
Her research and scholarship includes two co-authored books and numerous health education curriculum guides, including A Competency-Based Framework for Health Educators, a widely accepted publication that identified the competencies a health educator should be able to perform with five years of work in the field.
For more information about the roundtables, contact Susan Vleck at 607-753-2377.
---