News Detail
09/25/2012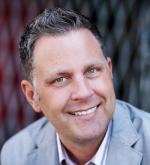 The founder of a national program encouraging young people to act when they see negative, unhealthy or violent behavior will discuss how students can find the courage to speak up or intervene during a Wednesday, Sept. 26, campus presentation.
Mike Dilbeck, a Chicago-based videographer-turned-advocate, will present Response Ability: Being an Every|Day Hero," at 7:30 p.m. in the Corey Union Function Room. The event is free and open to the public.
Dilbeck's talk is the keynote event for "Students Against Violence Week," and is co-sponsored by the Sexual Assault Awareness and Programming Committee. The presentation also is part of the College's ongoing "Wellness Wednesday" series.
Dilbeck created Response Ability and the Every|Day Hero Campaign, two national programs that stress the importance of speaking up and acting based on one's values. He seeks to help students overcome the obstacles that lead many people to act as silent bystanders in the face of potentially harmful incidents, and become instead everyday heroes.
"Eighty percent of students make good decisions, and they have the power to notice and act on the other 20 percent making choices that bring down their communities," Dilbeck said.
Dilbeck's program aims to equip students with the life skills necessary to make a positive impact whenever they see unhealthy or dangerous behavior among their peers on campus.
In his presentation, Dilbeck demonstrates how people who witness negative incidents like assaults, thefts or sexual harassment as part of a large group often do nothing, even they know the behavior is wrong. He includes situations where he, himself, witnessed harmful situations and let them occur without intervening.
Dilbeck uses video clips to help frame the discussion and to share "real" conversations among students. Before audience members leave, they will be asked to take the Every|Day Hero Pledge.
Dilbeck has produced an award-winning DVD package to help people find the courage to act in negative situation. It is used on more than 250 campuses nationwide and was incorporated into the curriculum of the 2009 Undergraduate Interfraternity Institute. He has produced more than 60 educational and promotional film projects for higher education organizations over the past two decades, earning awards and a reputation for challenging negative social norms in college student communities.
Dilbeck received the 2009 Laurel Wreath Award from the North American Inter-fraternity Conference and was honored with the 2009 Fellow Award from the Fraternity Executives Association for outstanding programming in the inter-fraternity world.
He is a member of Sigma Nu Fraternity and founded his chapter at Texas Christian University. He served his international fraternity as assistant executive director.
Sponsored by the Health Promotion Office and the Student Development Center, the Fall 2012 "Wellness Wednesday" series takes place every Wednesday at 7 p.m. in Corey Union Exhibition Lounge, unless otherwise noted.
For more information or accommodation to attend an event, contact Catherine Smith, the College's health educator, in Van Hoesen Hall, Room B-1, or at (607) 753-2066.
---