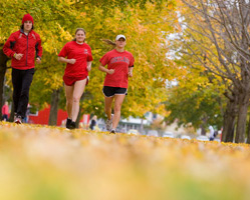 08/10/2012

Each semester, SUNY Cortland makes a weekly commitment to encouraging the entire campus and community in the pursuit of a lifetime of good health.
That's no surprise, as well-being is one of the College's four priorities, along with academic excellence, transformational education and maximizing resources.
Sponsored by the Health Promotion Office and the Student Development Center, the Fall 2012 "Wellness Wednesday" series will take place each Wednesday at 7 p.m. in Corey Union Exhibition Lounge, unless otherwise noted. The events are free and open to the public.
On Aug. 29, Louise Mahar, the College's assistant director of recreational sports for fitness, will offer "An Intro to Yoga." Participants will experience a beginner-level yoga class and should dress in loose, comfortable clothing and bring a towel.
On Sept. 5, two SUNY Cortland student affairs representatives will discuss "So You're in College: Now What?" Billie Jean Goff, associate director of counseling and student development, and Cathy Smith, health educator, will address issues for first-year and transfer students, such as residence hall living, partying, homesickness, new relationships and peer pressure.
On Sept. 12, participants can "Walk the Walk of Student Services" at an open house from 5:30 to 7:30 p.m. in Van Hoesen Hall and Corey Union. Visitors will be able to meet the student services staff and view the facilities of the University Police Department, student health services, counseling, student disability services, health promotion, substance abuse prevention and education, career services, residence life and housing, Academic Support and Achievement Program (ASAP), Emergency Squad, Tomik Fitness Facility and recreational sports, as well as Auxiliary Services Corporation. Staff from the Vice President for Student Affairs, Multicultural Life and Campus Activities offices will meet students in the Corey Union lobby. Refreshments will be served and prizes raffled.
Well-being is one of the College's four priorities, along with academic excellence, transformational education and maximizing resources.
A farmer's market will be held at Neubig Hall between 11 a.m. and 2 p.m. on Sept. 19. Sponsored by the Student Affairs Sustainability Committee with assistance from the Auxiliary Services Corporation, the market will offer locally grown and produced foods and other healthy and sustainable goods.
National presenter Mike Dilbeck will discuss the opportunity that each student has to encourage classmates to make the right choices on Sept. 26. His talk, titled "Response Ability: Being an Every/Day Hero," begins at 7:30 p.m. in the Corey Union Function Room. Eighty percent of students make good decisions and they have the power to notice and act on the other 20 percent making choices that bring down their communities, according to Dilbeck. He will concentrate on giving his audience three powerful life skills to use whenever they see unhealthy or negative behavior among their peers, in their classes, on their campuses and in their lives. Presented as the keynote event for "Students Against Violence Week," the talk is co-sponsored by the Sexual Assault Awareness and Programming Committee.
A panel composed of College and community officials and a student will address "Depression and Suicide: Offering Hope" on Oct. 3. The panelists will share stories and resources that offer hope and healing for campus community members who are feeling sad, stressed, anxious, overwhelmed, disconnected or alone, or who know friends or family who are experiencing depression. The presenters include Garra Lloyd-Lester, Cortland County's mental health youth services development director; Jeanette Dippo, a SUNY Cortland Health Department faculty member; and Traci Halpin, a former SUNY Cortland student.
National speaker Rick Barnes will go beyond the rules and regulations regarding alcohol consumption to address the personal choice students make on Oct. 10. His presentation, "Drink Think: A Personal Approach to Alcohol," begins at 8 p.m. in the Corey Union Function Room. "Alcohol is the most widely used and misused substance in our colleges and universities today," said Barnes, who will hold discussion about alcohol use on campus that is intended to be fun and interactive yet serious. The talk is co-sponsored by the Student Conduct Office.
The campus strives to become a national leader in the promotion of the physical, emotional, cultural and social well-being of all community members.
On Oct. 17, Lyndon Huling, assistant director of multicultural life and diversity at SUNY Cortland, will introduce "SafeZone," a new program to identify, educate and support lesbian, bisexual, gay, transgendered and questioning (LBGTQ) allies. SafeZone aims to provide tools for allies to support and advocate for those who identify as LBGTQ. Huling will outline the SafeZone program's mission and discuss allies, who are individuals in the Cortland community who consider themselves to be open, accepting and knowledgeable about LBGTQ issues. He will explain how individuals and organizations can make their space a certified SafeZone.
The College and community will team up to address "Diversity within the LGBTQ Community" on Oct. 24. Huling of the Multicultural Life and Diversity Office and Leah Calzolaio, project coordinator with the Cortland LGBTQ Resource Center, will lead the panel discussion on the assumptions of sameness in the LGBTQ community, and hear the unique experiences of each panelist around their multiple identities.
Members of the campus and community are invited to dress up, party and help the New York Public Interest Research Group collect donations for local food pantries during "Trick or Eat!" from 6 to 8 p.m. on Oct. 31. Between their volunteer service, students will depart from and return to the Corey Union Exhibition Lounge, where they will be offered refreshments and prizes.
On Nov. 7, a panel of presenters will discuss "Hooked on Prescription Drugs," which relates to the apparent rampant abuse of prescription drugs with its devastating effects. Sharing stories and resources that offer insight, information and encouragement will be Mark DePaull, assistant chief of police with the College's University Police; SUNY Cortland senior Dean Damore; and Barry Schecter, a SUNY Cortland Health Department faculty member who also coordinates the College's Human Service Studies.
The campus and community are invited to take part in the "Great American SmokeOut" from 11 a.m. to 2 p.m. Nov. 14 on the first floor of Corey Union. Health promotion interns will be available to help individuals sign the pledge on Wednesday to quit for the day on Thursday. Health Promotion and the Tobacco Advisory Committee host this event.
For more information or accommodation to attend an event, contact Catherine Smith, the College's health educator, in Van Hoesen Hall, Room B-1, or at (607) 753-2066.
---