News Detail
03/18/2019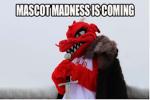 Red Dragon Nation, Blaze needs your vote.
Mascot Madness is back. For the seventh consecutive year, the 64-campus SUNY system is hosting a competition to determine its most popular college mascot.
And Blaze, the fiercest red dragon outside of "Game of Thrones," is at a competitive disadvantage because the first round of voting coincides with SUNY Cortland's spring break.
On Tuesday, March 19, online voting will begin as mascots battle, tournament-style, in brackets patterned after those used for the NCAA basketball championships. In the first round, second-seed SUNY Cortland is matched against seventh-seed Fulton Montgomery County Community College. FMCC's mascot is a pirate named Reggie the Raider.
Starting at noon Tuesday, March 19, until 3 p.m. Friday, March 23, SUNY Cortland faculty, staff, alumni, students and friends can cast a first-round vote for the College's iconic mascot at suny.edu/mascotmadness.
In addition to instructions for voting and a printable Mascot Madness bracket, the site offers profiles of all participating SUNY Mascots.
If everybody's favorite flame-throwing, game-winning Red Dragon overcomes the hurdle posed by having an empty campus and sinks Reggie in the initial round, Blaze will advance through the following schedule:
Round 2 — March 26-28
Round 3 — March 29 – Apr 2
Semifinals — April 3-5
Finals — April 9-11
If you'd like to learn more about Blaze, below is a recent SUNY mascot interview:
If you'd like to learn more about Blaze, below is a recent SUNY mascot interview:
Who are you, where are you from, and who do you represent?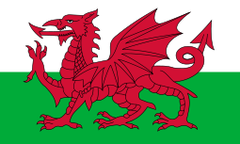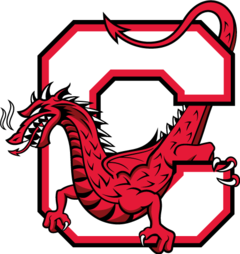 My friends call me Blaze, and I represent the best all-around college on the planet, SUNY Cortland. They call me Blaze because my real name is largely unpronounceable by my SUNY peeps. See, my branch of the dragon family tree has its roots in the Celtic kingdoms of Wales. (My hatch name is Y Ddraig Goch if you want to give it a try) In fact, you may have noticed that one of my ancestors posed for the traditional Welsh flag — carried into battle by King Arthur, and still flown today!
What is your wackiest attribute?
Seriously? Do you have any idea what happened to the last person who called me wacky? I am a fire-breathing, castle-destroying, population-threatening legendary beast of unimagined power. Nobody calls me wacky. I am enchantingly eccentric.
But OK, if you MUST have an answer, people are usually surprised to learn that my shorts are grafted onto my body.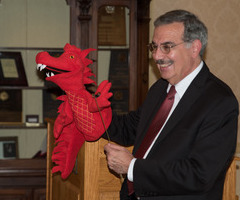 What would your autobiography be called and why?
"Angela's Ashes." Angie was the first person to stand too close to me when I sneezed.
What is the biggest school victory/triumph you have been witness to?
That's a tough one. Nearly everything that happens at SUNY Cortland is an epic victory/triumph.
Who is your on-campus partner that helps you stay on top of your game, the Robin to your Batman?
Without question, that would be President Erik J. Bitterbaum. He's been great. We're usually at all the same campus events, and he frequently fills in for me when I'm busy doing important dragon stuff. He loves engaging with students, alumni, faculty, staff and community members, and gives them his full attention. He's smart, compassionate and level-headed. Which is good, because I tend to get mad and incinerate people.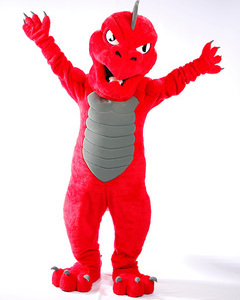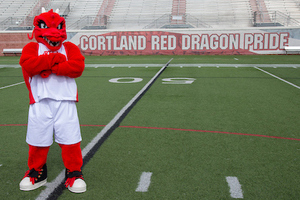 If you could trade places with any mascot for a day, who would it be and why?
That salamander dude from Oneonta. To show them how Red Dragon is DONE.
Everyone has a good app idea. What's yours?
Match.com. No, it's not that lame dating app. Dragons think more literally. With my app, you just strike the icon and flames shoot from your phone.
What one fact about your school do you love to surprise your fans with?
SUNY Cortland has been providing life-changing educational experiences for students for 150 years and is in the middle of a year-long Sesquicentennial Celebration! A century and a half is an impressively long time to maintain that standard of excellence. If you're human, that is. It's less than a decade in dragon years. But still...
What is your favorite series to binge watch?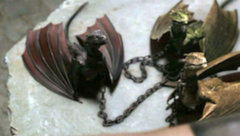 Um, duh, "Game of Thrones." Three of my cousins are on it. You know them as the dreaded Drogon, Rhaegal and Viserion. But to me, they're just Danny, Rachael and Vinny. We used to sneak away together during family reunions and devour herds of sheep. Once, Vinny got caught with burnt wool hanging from his teeth. He told his parents he'd just been flossing! And they believed him! Can you believe it! Hahaha … good times, good times.
Should you make it to the finals, what would your entrance song be when you enter the final competition?
"Dragon Age" by Lindsey Stirling.
Did you know that Lindsey performed at SUNY Cortland in 2012? The crowd was so big that the College had to stop admitting people into the venue. So, what did this avant-garde violinist/dancer/YouTube star/dragon-lover do? She performed an unplanned SECOND show THAT SAME NIGHT so she wouldn't disappoint her fans! Now THAT's Red Dragon Strong!
---