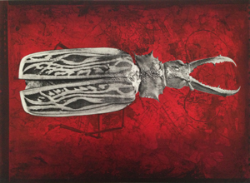 03/13/2014

The elaborate printmaking process known as photogravure relies on good photography, but make no mistake: it involves much, much more than using a camera to capture an image.
The complicated and labor-intensive practice, which creates a print with photographic and etching techniques, also serves as the inspiration for the upcoming art exhibition "Refocus: Contemporary Photogravure" at SUNY Cortland's Dowd Gallery.
The exhibition, which is free and open to the public, runs from Tuesday, March 18, to Thursday, April 24. Contemporary artists Lynne Allen, Barbara Madsen, Lothar Osterburg and Judy Pfaff will contribute photogravures to the show, which was curated by SUNY Cortland Professor of Art and Art History Charles Heasley.
The Dowd Gallery remains housed temporarily on the third floor of Main Street SUNY Cortland, 9 Main St. Normal gallery hours are 10 a.m. to 6 p.m. Tuesday through Friday and 10 a.m. to 2 p.m. on Saturday. The gallery is closed Sunday and Monday.
Above image: Lothar Osterburg, Zeppelins
Docking at Grand Central, 2013,
photogravure with gampi chine colle, 30 x
30 in.

Top left image: Barbara Madsen, RYB 3,
2000, photogravure and color aquatint
mounted on canvas, 34 x 46 in.
Several special events tied to the exhibition also take place at the Dowd Gallery, unless otherwise noted:
• An opening reception is planned for 4:30 p.m. Thursday, March 20.
• Heasley will give a curator's talk at 5 p.m. Wednesday, March 26.
• Osterburg will present an artist's talk and demonstration at 4:30 p.m. Thursday, April 10, in the College's digital photo lab, located in Dowd Fine Arts Center, Room 008 on the SUNY Cortland campus.
• Allen will offer an artist's talk at 5 p.m. Tuesday, April 22.
The process behind photogravure involves transferring a photographic image onto a metal plate, chemically etching the image into the plate then printing from the plate onto paper. The detailed practice results in prints of a very high quality.
Invented in the 19th century, photogravure helped legitimize photography as a true art form in its early stages, rather than solely as a scientific means of reproducing images.
The velvety blacks and extraordinary range of grays produced by the process are evident in the works featured in the latest Dowd Gallery exhibition. According to Heasley, the diversity of the pieces offer "a very short visual history of photography and a beacon-lit path into a future of refocusing the lens in a digital world."
For more information, images of exhibition works or to schedule a group tour, contact Gallery Director Erika Fowler-Decatur at 607-753-4216.
---