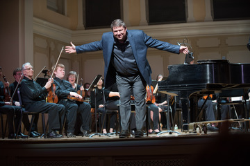 04/17/2018

Paul Alexander '82, a longtime NFL offensive line coach and trained classical pianist, will receive an honorary degree from the State University of New York during SUNY Cortland's undergraduate commencement ceremonies on Saturday, May 12.
Alexander, currently with the Dallas Cowboys, recently played piano and lectured on campus in a unique, combined presentation in which he explored the common threads connecting high-level performance in athletics and music.
He will be the featured speaker for SUNY Cortland's first two undergraduate commencement ceremonies.
"Paul is an original thinker and his innovative approaches have led to success on the playing field and in the concert hall," President Erik J. Bitterbaum said. "In so many ways, he exemplifies the values we try to nurture through a SUNY Cortland education."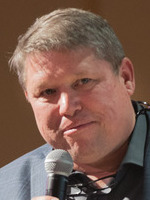 Alexander has coached in the NFL for a quarter of a century, starting with the New York Jets, then spending 23 years employing innovative methods to mold and motivate the widely respected offensive line of the Cincinnati Bengals. This year, he accepted a similar challenge to serve as offensive line coach for the Cowboys.
Frequently, he has attributed his coaching success to the experience he had at SUNY Cortland, where he majored in physical education, minored in music and played offensive tackle for the Red Dragons for three seasons. As a senior, he became the College's first-ever national Academic All-American by the College Sports Information Directors of America.
After Cortland, Alexander earned a master's degree in exercise physiology at Pennsylvania State University, serving as a graduate assistant under football legend Joe Paterno. From there, he moved to the University of Michigan as a graduate assistant for another gridiron legend, coach Bo Schembechler.
He began his career in professional football as an assistant coach for the Jets in 1991 and started his long tenure with the Bengals in 1993. There, he built a reputation as one of the most innovative and respected offensive line coaches in professional football. Sports Illustrated called Alexander "the Michelangelo of NFL assistants" and selected him as the best offensive line coach in the league in 2016, when assembling a hypothetical coaching "dream team." While with Cincinnati, he founded the nation's first high school football camp exclusively for linemen and brought in Bengals players to help coach.
Despite the time demands of professional football, Alexander began training as a classical pianist 10 years ago, following a love of music he developed at SUNY Cortland. Since then, he has performed at the University of Cincinnati Conservatory of Music and other venues, including a combined lecture and performance with the Cortland College-Community Orchestra in Old Main Brown Auditorium in March. He has also taken a turn at conducting the Hamilton-Fairfield Symphony Orchestra in Ohio.
Although his passion for the piano began as an effort to help his daughter with her music lessons, Alexander quickly saw similarities between high-achieving athletes and world-class musicians. Using this unique perspective, he bridged the worlds of coaching and classical piano in Perform, a book chronicling his journey as an adult piano student and sharing lessons for athletes and musicians alike.
Based on all of these achievements, Alexander was inducted into SUNY Cortland's C-Club Hall of Fame in 2012.
---